Iiniistsi is the Blackfoot word for Treaty, for harmony and for relationships of renewal. Through art and education and cultural programming we try to explore treaties—iiniistsis—of the past that have contextualized our present and iiniistsis that we might make in the future, whether they're on a global scale or a micro scale between two people. We'll be talking about stories, large scale storytelling circles that we use a lot as ways to activate rooms and create new work.
I come from Treaty 7. At Iiniistsi Treaty Arts Society, we run a series called REDx Talks where we talk about things like resilience, empowerment and discourse. In the conversation around Truth and Reconciliation, we seek to understand what reconciliation means to organizations, artists, government and entrepreneurs. We are trying to build bridges and create new iiniistsis.
One of the things we've been really fortunate to bring to this circle is a program called Artsdance. It's a confluence of different thinkers, non-government organizations, social innovation organizations, artists — it's much akin to our sacred sundance ceremonies that we have every year. Artsdance is an opportunity to activate conversations like the ones we are having today.
What we're going to be talking about today is tied into all the work that we do. It's rooted in story, it's rooted in renewal, it's rooted in the frequencies of the land — this territory. Everything we have, all our privileges are predicated on that first relationship with that treaty, that iiniistsi. Our responsibility is to remind everybody of that work.
There's storytelling and story-listening. Through storytelling circles, we believe that we can start to disrupt the old narratives and create the new ones that are our futures. Because we're all just made of stories, old and new.
Follow  Cowboy and Rio's entire activation session on Medium and let's continue the conversation. 
---
About the Creative Calgary Congress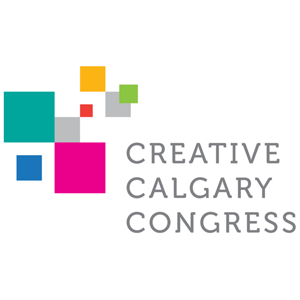 Calgary Arts Development produced the first Arts Champions Congress in 2011 as a meeting place for people who make Calgary's arts sector a vibrant and exciting place to work and our city a great place to live.
Renamed the Creative Calgary Congress in 2014, it returned on November 22, 2016 as a place to share ideas and explore ways that the arts and artists can play a leadership role in making Calgary a more curious, compassionate and creative place for all citizens.
Learn more about the day and add your voice