Not many former street performers find themselves playing Carnegie Hall, but then again, when you learned your craft on the street, like Dan (the One Man Band) Duguay, the distinction between playing on 57th Street—outside—and up onstage inside Carnegie gets blurred a bit.
Duguay, who graduated from playing on Stephen Avenue or outside Eau Claire Market back in the mid-1990s, found himself, in March 2016, performing along with the other members of Revv52, Calgary's longtime choral group, onstage at New York City's Carnegie Hall.
For Duguay—who forgot, 25 years ago, to go get a day job and somehow it worked out—making it all the way to Carnegie Hall was a blend of the mundane and the epic.
"It's a room," he says, "but it's this room we have turned into a monolith."
Then he pauses a moment to reflect on what it was like to perform on the same stage where Tchaikovsky made his American debut, where people like Louis Armstrong, Billie Holliday, Judy Garland, Frank Sinatra, and hundreds of other musical legends have performed over the past century.
"There were," he says, "a few goosebump moments."
If that sounds a wee bit underwhelmed, maybe that's because Duguay learned his trade where there's no room at all—playing music of bands like the Rembrandts, Grapes of Wrath, and the Everly Brothers with a few Carleton University college pals (he studied anthropology and political science) on the Sparks Street Mall in Ottawa in the 1990s.
Around that time, someone suggested to Duguay that he should become a one-man band, because then he would have an irresistible hook—and get to keep all the change in the hat for himself.
"How hard could it be to learn extra instruments?" he asked. Before long, he was Dan the One Man Band, drawing larger crowds than he'd ever attracted performing with his buddies.
"All of a sudden," he says, "I had an attentive audience!"
He also had arrived at street performing at a time which, thanks to a quirk of currency production, turned out to be a hell of a good time to rely on the old change in the hat scenario to pay the bills.
"The 90s was the golden era of street performing," Duguay says, "because they introduced the toonie and the loonie."
Duguay discovered that without too much trouble, he could earn quite a nice amount of money—singing songs, cracking jokes, and not sitting in some cubicle, earning a living.
He also had a serious case of wanderlust coursing through his veins—and the perfect way to pay for plane tickets.
"I thought, I'm gonna follow this one man band path for a while," he says, "and see where it goes."
That led Duguay on a global busking tour, to places like Europe, Australia, and Japan, then booming, where he figured out that busking for yen topped just about any street performing gig you could find.
"In my own little way, I was working the currency market," he says.
There was more than one occasion, when a tipsy salaryman would fire a 10,000 yen [about $107] note into Duguay's guitar case. He regularly filled it up with 1,000 [$10] notes— particularly after playing one song that resonated with the Japanese more than any other.
"Sinatra's My Way was the money shot," he says.
Duguay travelled with Colleen, his girlfriend, who often found gigs on her own, teaching English, in whatever country the couple happened to be visiting. In 1995, they got married in Edmonton, moved to Calgary—and stayed.
"Eau Claire Market was a thriving place where you could busk," he says. "There was no shortage of places I could play."
One day in July 1991, Duguay was downtown and decided to perform an impromptu set on Stephen Avenue to kill an hour while he waited for Colleen. It was the same moment a Calgary Herald photographer wandered by, looking for some local colour—and shot some photos of Duguay. The following day, which happened to be his mom's birthday, Duguay wandered over to buy the newspaper to see if it had published a photo of him, when his jaw hit the sidewalk: A large photo of him was on the front page of that day's paper.
Since those early heady days, Duguay has become a mainstay on the western Canadian festival circuit, performing regularly at children's festivals, rodeos, and various spring, summer, and autumn events. (He calls his schedule "farmer hours").
He didn't originally like performing for children, either, but having raised two of them (they're now 12 and 16), he has come around to the idea—particularly because he gets to write songs about things that are near and dear to his heart, and perform them for an audience that's still figuring it all out.
"Fresh food versus processed," he says. "Video game addiction."
Working farmer hours has also produced an unexpected benefit for Duguay that he never saw coming.
"I was able to be with my kids, not put them into day care," he says. "My relationship with my kids— that's my greatest accomplishment.
"When I started [this whole one man band deal], I didn't give it any thought."
What started out as a diverting, fun side gig during university turned out to be a career.
"I'm living a creative life," he says.
Now, Duguay has taken over hosting The WhoKnows Variety Show at the Ironwood Stage & Grill Inglewood on the last Tuesday of every month—with the next edition coming up May 30. Guests include Alberta artists Sheri-D Wilson, musician Heather Blush, magician James Jordan—in addition to a few surprises that accumulate in the rolodex of a man who learned his trade as a global street performer, where you often have to communicate with something other than words.
"I know fire eaters," Duguay says. "I know plate spinners."
So how did a one man band end up at Carnegie Hall? By joining a choral group that landed him there. One of the routines that Duguay has done with Revv52—whom he has sung with for 12 years—is a Johnny Cash medley, a tribute to the Man in Black where Duguay calls himself "The Dan in Black."
It turns out being a one man band, like being a Maytag repairman, can get a little lonely.
"One man bands have to find community," he says. "I developed my community from Revv52."
Duguay never planned to live a creative life—he says he's neither a virtuoso guitarist, or singer, or songwriter, just a hard worker—but now that he's lived one, he recommends it.
At the recent Mayor's Lunch for Art Champions, Duguay listened as Her Honour, the Honourable Lois E. Mitchell, CM, AOE, LLD, Lieutenant Governor of Alberta, talked about how she discovered there's a creative life hidden inside everyone—even her.
"[She said], we are all creative," Duguay says. "Those moments where you are creating and the hair on the back of your neck stands up—those are what I live for."
And imagination, like muscle memory, needs to be exercised, or one day, you wake up with none, he adds.
"Use it," he says. "Or lose it."
---
About The Storytelling Project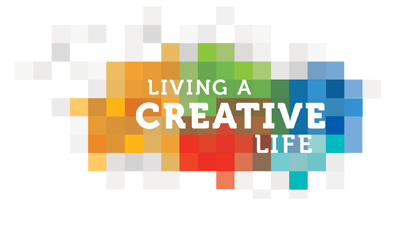 On November 16, 2015, Calgary Arts Development hosted a working session with approximately 30 creative Calgarians from various walks of life. Many of the small working groups voiced the need to gather and share more stories of people living creative lives.
That need has turned into The Storytelling Project.
The Storytelling Project raises awareness about Calgarians who, by living creative lives, are making Calgary a better city, effecting positive change and enriching others' lives.
Have a story to share? Email us at news@calgaryartsdevelopment.com.