Calgary Arts Development is pleased to invite you to Artsdance.
On June 23, 2016, add your voice to the conversation!
3:00pm – Tipi raising/set up/casual drop-in activities
7:00pm – Casual dinner
8:00pm – Official program onstage followed by breakout discussions
Mount Royal University Amphitheatre
(4825 Mount Royal Gate SW) Map
This is a free event and all are welcome.
Please feel free to drop by on June 23, 2016.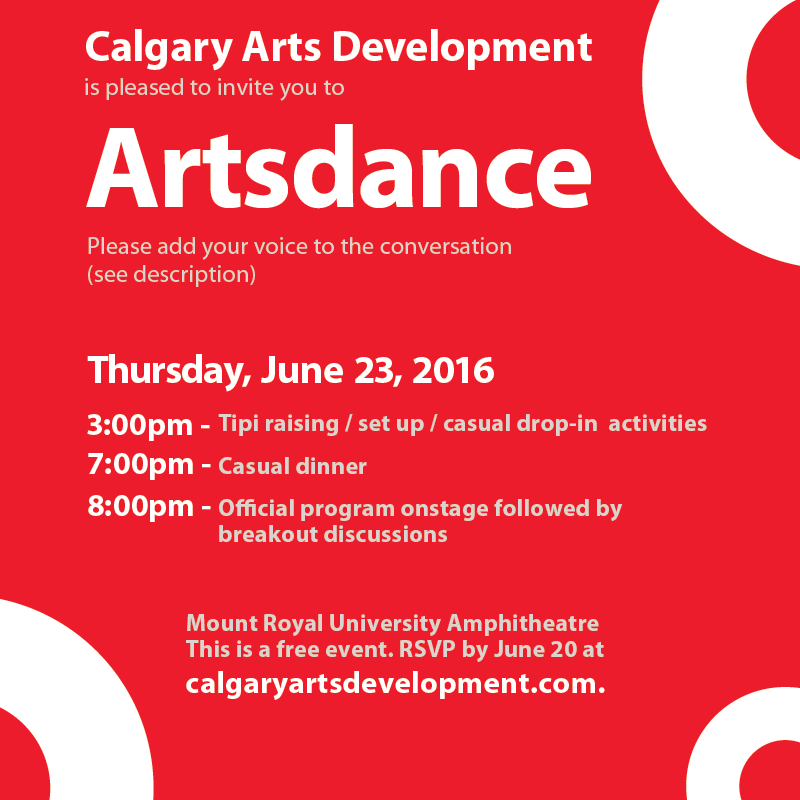 What is Artsdance?
Led by Cowboy Smithx, Rio Mitchell and Iiniistsi Treaty Arts Society, Artsdance is an unprecedented Intertribal ceremony, guided by the Indigenous elders of the land, acknowledging that artists must be at the centre of the conversation and action towards a creative, connected city. Each participating Artsdance organization or group will leave the gathering with a mission to make Calgary and the surrounding Treaty 7 area a better place to live and create.
Artsdance will involve Calgary-based arts organizations, non-profits, educational institutions and Treaty 7 First Nations. The ceremony will take place every year near the Summer solstice honouring the four directions, the four elements and four quadrants of our city.
In its first year, 2016, Artsdance will be an opportunity to come together to meet one another, to share ideas, and to envision a full-scale Artsdance for next June. Please join us and add your voice and your ideas to the conversation about what this intertribal ceremony can become.
Bring colleagues and friends. All ages are welcome.
We will begin with an afternoon of open-activity while we raise four tipis (one for each quadrant of the city), share a meal together, before our evening, hour-long official program—essentially a small collection and expression of all of our creative work and ideas. After this official program, there will be an opportunity for quadrant-break-out-sessions in your quadrant's tipi, before we all gather once more to set our collective compass towards how to build Artsdance together over the coming year.