Years ago, when she studied art history at the Alberta College of Art + Design, Jenn Nguyen—who also has degrees in business management and education—discovered that the history of art is very complex and sometimes misunderstood.
So much beauty. So much imagination. Nguyen loves painting. She loves art.
"Art history is really interesting," Nguyen says. "It's definitely conflicting. It's not boring at all, but it's hard to fully understand the intention behind every art piece."
So, in addition to art history, she also studied art design at the University of Alberta.
There, she learned the principles and craft of how to apply aesthetics in unconventional ways, to turn beautiful symbols into a business model.
"Art design," she says, "is learning the principles of what looks aesthetically pleasing, how to do different types of design and the psychology behind it as well, of how people respond to different aesthetics."
In March 2017, Nguyen decided to combine business school and art school in order to hatch her own creative life.
She launched Trendy Singh, an online business that transforms the turbans into fashion forward headgear—with the profits going to non-profit organizations such as Khalsa Aid, World Sikh Organization, and Nanak Naam.
Trendy Singh offers turbans in a trio of designs, with two more new designs just being released.
Recently, they also introduced a number of accessories, including Khanda—rooted in the Sanskrit for double-edged sword—cufflinks as well as a Khanda accessory pin.
Whether it's a floral print, a static one or a camo print, Nguyen aims to create designs that maximum beauty.
"It's definitely what's aesthetic from my art background—what's pleasing and is meaningful."
All of it painted in limited edition, 100% cotton turbans, that—somewhat astonishingly—coincided with the arrival of a federal NDP leader, Jagmeet Singh and his brother Gurratan Singh, two  charismatic Sikh Canadians who could do for turbans what Justin Trudeau did for six pack abs and photobombing: Bring the turban into the mainstream.
Nguyen is a start-up fashion designer taking a Sikh religious symbol, some art school and business school smarts, and creating a mashup that's beautiful, innovative, and dynamic.
If you dig a little deeper into her design impulses, the Trendy Singh also pays homage to the original spiritual message of the headwrap, and the emotional conflicts faced by a generation of millennial aged Sikhs, whose cultural influences are as global as they are local—or religious.
"I have Sikh friends, and it's sometimes hard for them," she says. "They're in a Canadian culture. And they love Canada. But they have a history to their religion. They're trying to grow their spirituality and yet they're defined by the rules of their religion and rules of societal norms.
"These issues go into my designs," she adds. "I pick flowers and florals as print designs, not just because they're in trend, but also because there's just something so transient about a flower. The way it grows and the way the petals fall off, because with some parts of us, we grow up, believing certain things, but as we develop ourselves, we leave some of these beliefs behind and adopt new things."
Those new things, she hopes, are connected to values and a commitment to doing the right thing.
"I find myself to be very much a spiritual person, as opposed to being labelled by a religion," she says. "We can look at a different religion and say that's odd, and judge it—but until we dive deep down at why people are doing it, then we understand oh, it's all for the common good."
"All of the profits for these designs go towards helping refugees," she adds, "people in war-stricken countries, kids' education, [and] women's rights. Some people are aware of that, because it's on the website, but people can also sometimes look at the fashion turbans and go oh, that's just consumerism."
Nguyen hopes to create new designs that pay tribute to contemporary artists who defied the naysayers the way Van Gogh and Paul Gauguin and others did in the 19th century just as the Sikhs wore turbans as an act of defiance to rulers to show that everyone is equal.
She has plans to create a graffiti turban.
"It's not considered art to some people, right?" she says. "But to me—why not? It's the definition of what's art that's changed. Just like the symbolism behind a turban has changed."
Nguyen has also assembled a small team to help build her business, including Sahajvir Randhawa, Tarndeep Singh, Anoop Brar, and Kris Hans at Market Grade, a Calgary-based interdisciplinary consultancy bringing together creativity, design, innovation, and strategy.
"Hans works on our website and some of our marketing strategies and modeled for the line too," Nguyen says.
Plus, the models who wear her products—and help promote them as well.
"All the models are on Instagram—the website too," she says. "They're on the team and they help out."
And if art history is pretty much a bummer—oh, if only Van Gogh had been able to write a business degree—Nguyen is stoked to have come up with a new business idea, even if she plans to donate the brunt of the business to charity.
"I absolutely love it," she says. "It's always been in me. Even when I was younger, I designed women's clutches, rings, and did wedding decorations—but I feel like this one's my true one because it's my passion.
"Over time, as you do things in business, the novelty wears off—but with this type of stuff [Trendy Singh], I'm communicating with people in India, just setting everything up and its very time consuming but you learn so much—a lot of it takes place very late at night—so you're sacrificing time for other things as well."
"It's just a different concept," she continues, "and there was a lot of uncertainty—but regardless, this is the process of business—innovation and marketing yourself. I absolutely love it."
Next up is collaborating with the wearable tech community to create a turban that incorporates technology in a way that's as beautiful as it is oh so 21st century, in addition to doing some design work for Toronto food company called Mampster, and a fashion show with other Calgary designers.
"I look at turbans as a symbol," Nguyen says, "because when I'm designing—let's say the floral print—it's art."
"It's like painting to me, because I paint as well. It's more like that—but then this painting gets transferred onto cloth and obviously in between, you have constraints, so it doesn't turn out exactly the way you wanted, so to me, it's art—but I can see how some people, looking at it, might think that it is just for fashion and consumption.
"But," she adds, "there's always room for multiple views on everything!"
---
About The Storytelling Project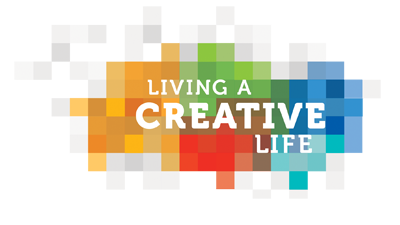 On November 16, 2015, Calgary Arts Development hosted a working session with approximately 30 creative Calgarians from various walks of life. Many of the small working groups voiced the need to gather and share more stories of people living creative lives.
That need has turned into The Storytelling Project.
The Storytelling Project raises awareness about Calgarians who, by living creative lives, are making Calgary a better city, effecting positive change and enriching others' lives.
Have a story to share? Email us at news@calgaryartsdevelopment.com.