Shelley Youngblut was in the big leagues.
In 2004, the Calgary native—and sports nut—lived in New York City. She had spent close to a decade there, working for magazines like Cosmopolitan, Seventeen, and ESPN the Magazine. She was married to Michael, a media executive, and together, they had twin four year old daughters.
It had been a long and winding road to that New York creative life, one that started when Youngblut, a music nut, launched Vox as a student at the University of Calgary, back when she was 20.
Since then, there had been magazines launched—ESPN. There had been magazines that folded—West. There had been magazine prototypes that Youngblut and her creative partners pitched and developed, nurtured and loved and moved to New York to hatch—only to end up rejected—Jane.
There was 20 years of magazine life in between Vox and 2004, when Youngblut and Michael decided one night to leave New York and move to Calgary.
Why? Asks everyone who ever grew up in the Canadian prairies, dreaming New York dreams—like Youngblut.
"Very simply, family," she says, "and wanting our daughters, who were born in the U.S., to know what it was like to be Canadian—and they were four at the time, so that was a good age to do it. They couldn't complain too much at the time.
"We also thought the U.S. economy was going to collapse," she said. "It just took four years longer than we thought it would to happen, so it was an economic decision too."
Youngblut had found her way in the world—and her creative life—by inventing magazines, which is kind of an odd talent to have—but she had it.
"I still believe that it's the perfect marriage of words and pictures contributing to the exploration of an idea," she says.
"A book is also a perfect medium, but you supply the visuals in your imagination where—and it's not about an idea, it's a more extended thing. Whereas a magazine is all about these wonderful ideas, perfectly presented."
And she had one of those curatorial imaginations, someone like Vanity Fair's Graydon Carter or even Betsy Carter at Esquire, who loved to blend high ideas and pop culture, local and international, pop stars, and cool dive bars.
"I'm not a great copy editor," she says. "I'm not a great writer and certainly not a great reporter—but I can connect dots and I can conceptualize things that don't exist."
Youngblut started talking to the Calgary Herald about creating a weekly magazine that would be young, fun, and tell the city's story.
That's when the uniquely Calgary default response towards optimism catapulted her towards a new chapter in her life.
"The Herald said yes," Youngblut says. "And literally from the day they said yes, to the day when we published the first issue of Swerve, it was six weeks.
"I'd spent six years trying to launch ESPN the Magazine!" she continues. "Six weeks! And I had a functioning magazine. I put out a National Magazine Award-winning weekly issue of a magazine for the next 10 years. That's insane, right?"
Three years ago, Youngblut took over Wordfest, the city's popular and much-beloved literary festival, and started disrupting the notion of what a literary festival could or should be.
"It's no longer an author festival or literary festival," she says. "It's now a place where you come to exchange life-changing ideas with people who think.
"Because they're such smart thinkers, they write books, but it's mainly about the person and your engagement with that person—so not coming from that world, I've been able to re-think what it could be," she continues. "Now it's a 24/7 idea-sparking, community igniting, wordy jazz that happens."
It's also one chapter of Youngblut's ever-evolving fluid, creative life.
That includes working with a creative ensemble of friends and colleagues that date all the way back to her days at Vox, and includes writers and editors and photographers she worked with at all her various stops along the way over the years.
A recent passion has been helping organize Tzvata events at the Sidewalk Citizen Bakery.
"My contribution to it was to come up with the name," she said, "which was the Hebrew word for coming together and to help come up with some of the artists, so together we were able to bring author George Saunders. We just had British playwright David Hare."
Tzvata involves a meal and a salon that anyone can participate in, where ideas get tossed around.
"It's just part of this idea of making magazine ideas come alive," she says. "It's kind of like idea jazz—these experiences between writers and readers can only happen in this one moment. And you never know exactly what that moment is going to be, so that's why you have to come.
"It's kind of tied into my sports background," she adds, "which is the idea that you have to  play the games."
Youngblut also devotes a considerable amount of energy and passion to becoming a world-class poker player.
She's played for years, on and off, but now she's back on, in a big way.
"I'm back in and playing in a monthly league to go to the World Series of Poker," she says. "We had our first tournament—and I finished second.
"We play at Cowboys, and we played for 11 straight hours," she says. "And at the end, I didn't care if I won. I just wanted it to be over."
She also has a book deal to write about poker—and how poker helped her reconnect with her father, who played it when she was growing up in Calgary.
Maybe the thing about leagues is that bigger isn't always more creative, or more fulfilling or more fun.
Creative lives, it seems, unfold no matter what your postal code. And the reason we all grew up thinking the only way to live a creative life was because of all those magazine editors living in New York, who paid too much rent for too little apartment and needed to create a mythology of where creativity came from—until a few of them, like Youngblut, called BS on the whole scheme and relocated her creative life closer to the Foothills.
So how does Youngblut live a creative life now?
"In Calgary at this point in my life, it's by being curious," she says, "by being open to as much as possible— and by holding on to and searching out the most talented people in this city—or the most interesting people or the most generous people." 
"The great thing about Calgary," she adds, "is they're all just one experience away. It's not hard to find great people here so it's simply a matter of holding onto the relationships that I've built over many years—and then being open to adding new ones."
---
About The Storytelling Project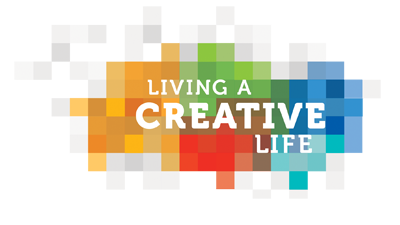 On November 16, 2015, Calgary Arts Development hosted a working session with approximately 30 creative Calgarians from various walks of life. Many of the small working groups voiced the need to gather and share more stories of people living creative lives.
That need has turned into The Storytelling Project.
The Storytelling Project raises awareness about Calgarians who, by living creative lives, are making Calgary a better city, effecting positive change and enriching others' lives.
Have a story to share? Email us at news@calgaryartsdevelopment.com.