In 2017, Calgary Arts Development was invited to be part of more conversations than ever before. From economic development summits to tourism focus groups, from educational panels to community consultations, 2017 was a year of deep engagement, listening, and learning.
We learned that Calgary is not described as an innovative city by people outside our city; that vibrancy is critical to other civic partners' strategies to attract business, talent, and visitors; that community spirit is an element that distinguishes our city from others; that people believe the arts can play a role in re-building our downtown core; and that Calgarians believe in funding for arts and culture(1).
All these things point to one conclusion—now is the time for the arts to play an even bigger role in shaping our city and telling our story to the world.
The time is now. The economic downturn has put a new focus on diversifying our economy with creativity and innovation at the heart of the conversation. Does this generate new opportunities for the arts and artists to re-ignite our city? We think it does.
Yet, 2017 was also a time, through consultation with our own sector, that we came to better understand the challenges artists and arts organizations are facing. We learned that the current funding model is not creating the conditions that organizations need to be sustainable and resilient, let alone to fully realize their potential; that there is a commitment amongst artists and arts organizations to continue to be innovative, take risks and try new things; that there is a desire by many artists to work more closely in community; and that there are many equity-seeking artists and arts groups who continue to work on the margins and cannot access our programs.
The $1M Arts Emergency Resiliency Fund and the $2M Cornerstone Bridge Fund were much-appreciated investments by The City of Calgary to help address some of the challenges our sector is facing. But one-time funds cannot fuel the needs of a system that is too lean to cope with the pressures and possibilities that are present today. It seems incongruous when the creative economy is the fastest-growing in the world.
In 2017, we conducted a research project to determine the demographic profile of the arts sector in Calgary—the only Canadian city that has done so. The results confirmed that there are gaps between the arts sector's demographic profile and Calgary's.
Listening to and learning from diverse artists and arts groups continues to be central to our work. We are committed to increasing equity, diversity, and inclusion in our programs, including the pursuit of right relations with First Nations, Métis, and Inuit communities of this place.
More conversations and initiatives involve collaboration, and sharing of spaces and resources. The exhilarating opening of cSPACE King Edward in 2017 marked an exciting new development in Calgary, complete with residences, market space, and the city's newest arts hub and co-working space.
cSPACE King Edward is an example of arts-led community-building. Just imagine what could be done at an even bigger scale—let's call it arts-led city-building. We hope you'll agree that unleashing the power of the arts is important in reshaping Calgary's identity and re-igniting our city's potential for the benefit of all Calgarians.
Patti Pon, President & CEO, and Dean Prodan, Board Chair
About Calgary Arts Development
As the city's designated arts development authority, Calgary Arts Development supports and strengthens the arts to benefit all Calgarians. We invest and allocate municipal funding for the arts provided by The City of Calgary and leverage these funds to provide additional resources to the arts sector.
Our Why: We believe that art infusing the lives of Calgarians has the power to build our city.
Our Vision: A creative, connected Calgary through the arts.
Our Mission: We support and strengthen the arts to benefit all Calgarians.
To deliver on our mission, we are:
A connector, facilitator and collaborator.
A champion, supporter and amplifier.
An investor in artists and arts organizations.
A catalyst and opportunity-maker.
2015 to 2016 Strategic Plan
2018 will be the last year of Calgary Arts Development's 2015 to 2018 Strategic Plan. The plan's three strategic priorities are:
Raise Value: Calgary Arts Development continues its leadership role in the arts and with other stakeholders to make the arts integral to the lives of Calgarians.
Build Relationships: Calgary Arts Development fosters collaborative relationships across sectors and communities to help ensure that Calgarians can experience art in their everyday lives.
Increase Resources: Calgary Arts Development identifies ways to increase and sustain our finances and expertise, and uses these resources wisely for greater impact.
These priorities all contribute to Calgary Arts Development's desired outcome for 2018: "By 2018, Calgary is recognized as a creative and artistically vibrant city that inspires Calgarians and the world."
Overall, the 2015 to 2018 Strategic Plan aligns with four out of five City priorities in The City of Calgary's Action Plan (A Prosperous City, A City of Inspiring Neighbourhoods, A Healthy & Green City, and A Well-Run City), and is explicitly aligned to Living a Creative Life: An Arts Development Strategy for Calgary.
Read Calgary Arts Development's Strategic Plan
Community Investment
In line with the 2004 Calgary Civic Arts Policy, Calgary Arts Development is responsible for establishing arts investment programs for organizations' annual operations, individual artists and other purposes that strengthen Calgary's arts sector. Calgary Arts Development invests a minimum of 75% of the dollars received from The City of Calgary directly into the arts sector through grant investment programs, with the remaining 25% being used to strengthen the arts sector through arts development activities and administration.
Calgary Arts Development's approach to investment is broad, including direct monetary support through grant investments as well as fostering long-term resilience through capacity-building in the arts sector.
We ran the following investment programs in 2017:
Calgary Arts Development invested $4,941,980 through these programs in 2017, a 4% increase over 2016. In addition to  regular annual programs, in 2017 Calgary Arts Development also administered two special funds on behalf of The City of Calgary: the $1M Emergency Arts Resiliency Fund, and the $2M Cornerstone Bridge Fund.
Artist Opportunity Grant Program
This program invests in professional development for individual professional artists, contributing towards expenses related to a unique artistic or career opportunity to a maximum of $2,500. Although the grant investments are modest, the impact is often transformational. The Artist Opportunity Grant Program has quarterly intake deadlines for application. Demand far outweighs the amount of investment available. The 2017 Artist Opportunity Grant Program invested $118,896, which represented 30% of the dollars requested (down 4% from $123,555 in 2016) in 67 artists, which represented 37% of eligible applicants (down 8% from 73 artists in 2016).
Although support for individual artists through this program is down from the previous year, 2017 offered individual artists the opportunity to apply for support through the Project Grant Program for the first time, meaning that overall support to individual artists was actually up in 2017.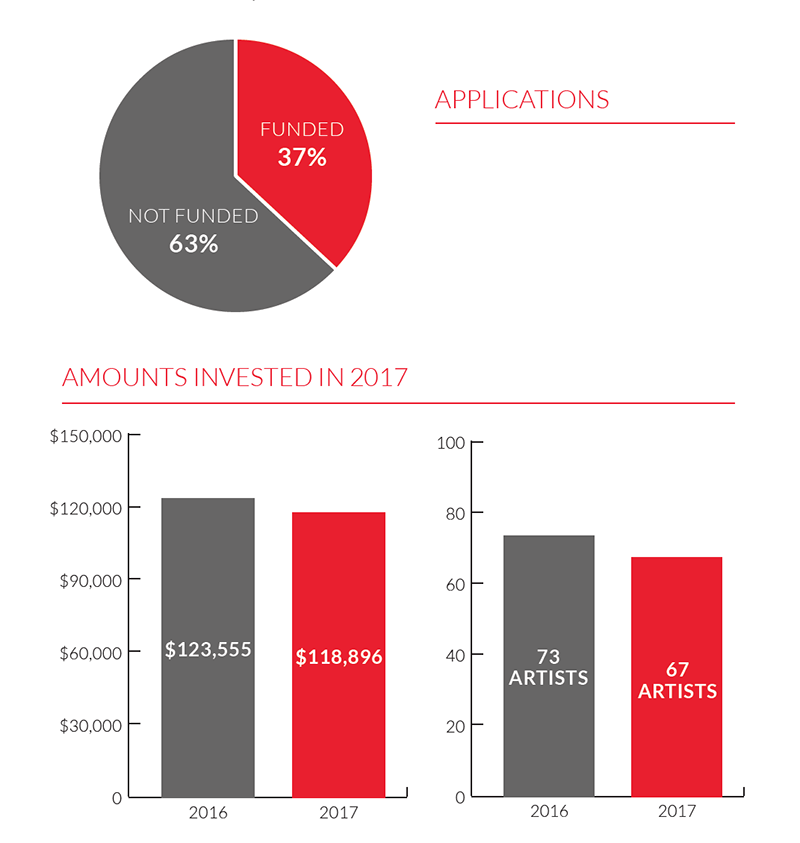 The 2017 recipients were:
Dick Averns, Public Art and Social Practice Exhibition (Calgary)
derek beaulieu, INSIDE/OUT Lecture Series and Residency (Shandy Hall, Coxwold, UK)
Ashley Bristowe, Writing Residency (Banff Centre)
Tim Buckley, Residency (Banff Centre)
Gary Burns, International Festival of Films on Art (Montreal)
Molly Caldwell, Independent Residency (Banff Centre)
Rachael Chaisson, BAiR Emerging (Banff Centre)
Patrick Chan, Circus Arts Aerial Straps – Aerial Research and Development (Calgary)
Megan Conley, Luminous Bodies Residency (Toronto)
Anna Cooley, Female Director Apprenticeship Opportunity (Toronto)
Col Cseke, Back to Back Theatre International Training (Geelong, Australia)
Sarah Curts, Aerial Dance Festival (Boulder, CO)
Elizabeth Emond-Stevenson, re:research with adelheid (Heidi Strauss) for emerging artists (Toronto)
Jaime Emond, SEEDS – Self-Esteem, Empowerment and Education through Dance (Santa Fe, NM)
Barbara England, Postgraduate Residency Studio Workshops (Kassel, Germany)
Lyle A. Fox, Banff Musicians in Residence (Banff Centre)
Danielle French, SyncSummit (Los Angeles, CA)
Jason Owin F. Galeos, RUBBERBANDance Workshop Intensive (Montreal)
Brian Garbet, Brüel & Kjær Sound and Vibration Conference and Workshops (Plymouth, MI)
Cathleen Gasca, Training Innovative Pattern Cutting for Graduates & Professionals (London, UK)
Benjamin Hayden, Merril Sci-Fi Collection Northlander Presentation (Toronto)
Mark Kunji Ikeda, lbs/sq" Intensive Training Program (Buffalo, NY)
Alexandria Inkster, Rencontre Interuniversitaire de Performance Actuelle (Montreal)
Lisa Isley, Private fine art bookbinding instruction with François Brindeau (Boudès, France)
Simon Tumasz Jordan, Hello Moth at The Great Escape Festival (Brighton, UK)
Eveline Kolijn, Community & Concept: Presentation for the Rocky Mountain Printmaking Alliance Conference (Pullman, WA)
Leah Kudel, Young Glass 2017 (Ebeltoft, Denmark)
Jean-Rene Leblanc, Artist in Residency Program at the Vorres Museum (Athens, Greece)
Jiajia Li, An Improviser's View of Notated Music (Banff Centre)
Lisa Lipton, Hospitalfield Interdisciplinary Residency Programme (Arbroath, Scotland)
Nikki Loach, ASSITEJ World Congress and Performing Arts Festival (Cape Town, South Africa)
Caroline Loewen, Geologic Time Thematic Residency (Banff Centre)
Miesha Louie, Canada's Music Incubator (Toronto)
Jamie Matchullis, Banff Puppet Theatre Intensive (Banff Centre)
Mynthia McDaniel, Medalta Artist in Residency Program (Medicine Hat)
Mikhail Miller, Exhibition (Mexico City)
Nicole Mion, New Aesthetics Training Program (Vancouver)
Sylvie Moquin, Training and Exploration (Montreal)
Yvonne Mullock, AFA International Studio & Curatorial Program (New York, NY)
Alice Nelson, The Puppet Illuminator Workshop (Regina)
Brittany Nickerson, Capture Photography Festival (Vancouver)
Jay Northcott, Assistant Directing Legislating Love (Calgary)
Eric Nyland, Cremona International Music Academy and Competition (Cremona, Italy)
Michelle (Shelley) Ouellet, Once Upon Water, Artist Residency (Azores, Portugal)
Alycia Pirmohamed, Folk Research Centre: Literary Conference and Arts Festival (Castries, St Lucia)
Darija S. Radakovic, Institut für Alles Mögliche Residency (Berlin, Germany)
Mechthild Reinders, Felting Workshops (Montbrun-Bocage, France)
Jenna Rodgers, Workshop: Mixie and the Halfbreeds (Toronto)
Carlos Rojas, Full-Year Residency at Medalta (Medicine Hat)
Eric Rose, Banff Puppet Theatre Intensive (Banff Centre)
Chelsea Rushton, AWAKENING Artist Residency (Toronto)
Jacqueline Russell, Touring Hushabye (Montreal, Toronto, and Edmonton)
Angela Ryu, Midwest Clinic (Chicago, IL)
Lisa Schwartz, Nuno Felted Seamless Gament Workshop (Los Alamitos, CA)
Nikki Sheppy, Sage Hill Spring Poetry Colloquium to revise Fail Safe for Publication (Lumsden)
Sisay Shimeles, Art-in-Residency at the Ottawa School of Art (Ottawa)
Lane Shordee, Collaborative Residency at the Dunlop Art Shack (Regina)
Makambe K Simamba, Our Father's Residency (Toronto)
Angela Smart, Canadian Operatic Arts Academy Summer Program (Lucca, Italy)
Kathryn Smith, Banff Puppet Theatre Intensive (Banff Centre)
Pamela Tzeng, A Meditation on the End by Jo-Lee at Risk/Reward Festival of New Performance (Portland, OR)
Javier Vilalta, Theatre of Objects Intensive in Barcelona (Barcelona, Spain)
Christina Visy, Midwest Clinic 2017 (Chicago, IL)
Laura Wayne, Alchemy Film & Moving Image Residency (Erfoud, Morocco)
Elaine Weryshko, Mask Creation Residency, Old Trout Puppet Workshop (Calgary)
Kyle Whitehead, Draft for a Scenario Performances (Mexico City and Oaxaca, Mexico)
Carol (Foon) Yap, Song by Toad Recording Session and Performance (Edinburgh, Scotland)

More Information on the Artist Opportunity Grant Program
ArtShare
The ArtShare program invests in artists, arts organizations, and arts initiatives that contribute to a diverse and inclusive arts community on behalf of all Calgarians.
In 2017 the program invested $157,934 in 13 projects:
Making Treaty 7 Cultural Society ($30,000)
Nuer Youth Association of Calgary ($5,325)
Iiniistsi Treaty Arts Society ($6,500)
Ethno-Cultural Council of Calgary ($15,000)
Woezo African Music and Dance ($10,000)
Stage Left Productions ($25,000)
In-Definite Arts Society ($6,000)
Walking With Our Sisters ($6,000)
Calvin Gomez ($15,000)
Studio C ($20,805)
Vania Dimitrova ($3,000)
Dariija S. Radakovic ($5,304)
Unison Festival Unisson ($10,000)
artsVest Alberta
artsVest is Business for the Arts' national flagship program that works directly with small to mid-sized arts organizations, equipping them with in-depth training, tools and mentorship. These components are thoughtfully created to build
sustainable partnerships between arts and businesses and to spark sponsorship opportunities. As an added incentive, artsVest participants can apply for matching grants—for every one dollar raised in sponsorship artsVest Alberta matches it with another dollar—doubling their sponsorship opportunity.
artsVest Alberta launched a two-year program in 2017. Calgary Arts Development contributed $75,000 to sponsorship matching funds for Calgary arts organizations. In 2017, 27 arts organizations created 58 partnerships with local businesses and exceeded their sponsorship goal of $128,500 by raising over seven times that amount in sponsorship funds for a total of $946,042.
More Information on artsVest Alberta
New Pathways for the Arts
New Pathways for the Arts is a three-year program focused on developing a learning community of up to 20 not-for-profit organizations that undertake artistic work or programs. Based on EmcArts' successful work with not-for-profit arts organizations around the United States, New Pathways is a carefully crafted local response to the specific and urgent needs of arts organizations.
The arts sector is embracing the need to be more adaptive and resilient in complex times, but many have limited capacity to do so. The New Pathways program was instrumental in developing local expertise in adaptive work practices. The program cost $225,798 to deliver in 2017, with investment from the Alberta Foundation for the Arts, the Calgary Foundation, and the Suncor Energy Foundation. The following three arts organizations finished their deep dive into an innovative approach to a complex challenge they are facing:
Alberta Theatre Projects
Downstage Performance Society
Swallow-a-Bicycle Theatre
In 2017, Calgary Arts Development also hosted a workshop called Adaptive Change and Experimentation for the arts community to learn more and gain insight into adaptive change work, with 40 registrants for the workshop.
More Information on New Pathways for the Arts
Operating Grants
Calgary Arts Development provides operational support to non-profit organizations with year-round, arts-driven operations through the Cornerstone Program and the Operating Grant Program. Operational funding is the single largest investment made by Calgary Arts Development each year. These investments support organizations that demonstrate high artistic impact, public impact, and organizational resiliency. Organizations may allocate these funds to any areas of their overall budgets.
In 2017, Calgary Arts Development invested $3,838,610 (compared to $3,764,045 in 2016) in 159 Organizations (165 in 2016). The organizations listed below produced or presented a total of 23,630 events (17,435 in 2016) for a total audience of 3,385,616 (2,965,393 in 2016).
Demand for operating funds continues to outweigh the funding pools available.
Cornerstone Companies
In the arts sector, there are certain organizations that have a history of programming and resonance that contributes to our city's identity locally, regionally, and internationally. Most are of a certain scale, and they demonstrate the capacity and intention to take on active roles as leaders and mentors to their peers and others in the community. Within our own arts ecology, we call these the Cornerstone Companies. These companies remind us, and help tell the world, who we are as a community and how arts contribute meaningfully to building our great city.
In 2017, Calgary's Cornerstone Companies alerted Calgary Arts Development and City Council to challenges they were facing due to both the economic downturn and a freeze on their operating grants over the past eight years. The City responded with a one-time $2M Bridge Fund, in addition to their annual operating funding, to help the Cornerstones navigate the difficulties they were facing. Contingent on receiving the Bridge Fund were two requirements: first, that a rigorous assessment process was created to determine how the $2M would be disbursed amongst the 10 Cornerstone Companies and, second, that the Cornerstones would create a Sustainability Framework to be presented back to City Council in Q2 of 2018.
2017 Operating Grants (OG) & Bridge Fund Grants (BFG) to Cornerstone Companies:
Alberta Ballet ($224,070 OG + $263,647 BFG)
Alberta Theatre Projects ($297,285 OG + $72,980 BFG)
Calgary Opera ($213,180 OG + $158,663 BFG)
Calgary Philharmonic Orchestra ($303,050 OG +
$318,266 BFG)
Folk Festival ($94,050 OG + $110,510 BFG)
Glenbow ($141,075 OG + $367,793 BFG)
National Music Centre ($57,475 OG + $324,206 BFG)
One Yellow Rabbit ($78,375 OG + $89,921 BFG)
Theatre Calgary ($303,050 OG + $198,611 BFG)
Theatre Junction ($80,465 OG + $95,403 BFG)
More Information on the Cornerstone Program
Operating Grant Program
In addition to the Cornerstone Companies, Calgary Arts Development provides grant investments to 117 non-profit arts organizations in the following categorizes: Community, Professional, and Festival.
2017 Operating Grant recipients:
Arts Service Organizations
Alberta Craft Council ($8,740)
Alberta Media Arts Alliance ($6,000)
Alberta Playwrights' Network ($11,000)
Alberta Printmakers ($16,300)
Book Publishers Association of Alberta ($4,500)
Canadian Music Centre, Prairie Region Association ($15,500)
CJSW 90.9 FM ($29,000)
Elephant Artist Relief (EAR) ($3,620)
Pumphouse Theatres ($43,470)
Quickdraw Animation Society ($37,120)
Theatre Alberta ($9,400)
Writers Guild of Alberta ($6,000)
Community (All)
Alberta Dance Theatre for Young People ($3,040)
Alexandra Writers' Centre ($4,320)
Alliance Francaise ($6,650)
Antyx Community Arts ($15,000)
Artpoint Gallery & Studios ($5,000)
Brazilian Community Association of Alberta ($5,000)
Calgary Young People's Theatre ($7,500)
Corps Bara Dance Guild ($3,230)
Curiously Canadian Improv Guild ($3,800)
Fire Exit Theatre ($4,000)
Front Row Centre Players ($7,600)
In-Definite Arts ($10,625)
Inside Out Integrated Theatre Project ($6,150)
Jeunesse Classique Ballet ($5,700)
Leighton Foundation and Art Centre ($14,750)
Loose Moose Theatre ($11,700)
MoMo Multi Ability Movement Arts ($6,000)
Morpheus Theatre ($9,250)
Silver Stars Musical Revue ($2,000)
StoryBook Theatre ($20,000)
Studio C, Prospect Human Services Society ($7,500)
This is My City ($7,000)
Three Left Feet Movement Creations ($4,300)
Workshop Theatre ($7,790)
Community (Music)
Adult Recreational Choir ($6,000)
Amici String Program ($5,000)
Calgary Bach Festival ($2,250)
Calgary Children's Choir ($3,600)
Calgary Civic Symphony ($10,000)
Calgary Fiddlers ($6,000)
Calgary Foothills Barbershop Chorus ($3,600)
Calgary Girls Choir ($8,800)
Calgary Men's Chorus ($5,000)
Calgary Renaissance Singers & Players ($4,200)
Calgary Round-Up Band ($4,500)
Calgary Youth Orchestra ($11,000)
Cantare Children's Choir ($5,500)
Foothills Bluegrass Music Society ($2,550)
Kantorei Choral Society ($4,800)
Mount Royal Choral Association ($5,000)
Revv52 (formerly Calgary Choral) ($6,200)
Rocky Mountain Concert Band ($1,200)
Savridi Singers ($2,000)
Spiritus Chamber Choir ($3,600)
The Festival Chorus ($7,000)
Westwinds Music ($5,000)
Youth Singers of Calgary ($19,500)
Festivals
Calgary Blues Music Association ($48,000)
Calgary International Children's Festival ($100,000)
Calgary International Film Festival ($68,000)
Calgary International Fringe Festival ($30,000)
Calgary Performing Arts Festival (Previously Kiwanis) ($10,000)
Calgary Reggae Festival ($20,900)
Calgary Underground Film Festival ($28,800)
Caribbean Community Council of Calgary ($5,000)
Exposure: Calgary Banff Photography Festival ($16,625)
Fairy Tales ($23,000)
GlobalFest ($37,000)
Hispanic Arts Society ($20,000)
Sled Island ($56,000)
When Words Collide ($3,000)
Wordfest ($70,000)
Professional Performing (All)
Calgary Animated Objects ($48,000)
Calgary Pro Musica ($15,000)
Classical Guitar Society ($6,200)
Cowtown Opera ($5,200)
Dancers' Studio West ($27,250)
Decidedly Jazz Danceworks ($92,000)
Early Music Voices Concert Society ($4,800)
Fish Creek Concert and Cultural Society ($3,325)
Foothills Brass ($5,000)
Honens ($65,000)
International Festival of Song and Chamber Music ($7,410)
JazzYYC ($4,275)
Kensington Sinfonia ($6,300)
Land's End Chamber Music Society ($9,000)
New Works Calgary ($7,000)
ProArts Society ($4,500)
Soulocentric ($4,600)
Springboard Performance ($14,000)
W&M Dance Projects (formerly Eko Dance Projects) ($7,000)
Professional Performing (Theatre)
Downstage ($12,500)
Ghost River ($16,500)
Green Fools ($11,500)
Handsome Alice ($6,650)
Lunchbox Theatre ($59,500)
Old Trout Puppet Workshop ($30,000)
Quest Theatre ($32,000)
Sage Theatre ($19,950)
Shakespeare Company ($4,800)
Stage Left Productions ($8,550)
Swallow-a-Bicycle ($4,500)
Theatre Encounter ($950)
Trickster ($10,925)
Vertigo Theatre ($92,000)
Professional (Presenting)
Calgary Cinematheque ($9,000)
Calgary Society of Independent Filmmakers ($34,000)
EMMEDIA ($38,000)
filling Station ($6,180)
FreeFall Literary Society ($7,000)
Illingworth Kerr Gallery ACAD ($9,500)
Mountain Standard Time Performative Arts Festival ($14,250)
Single Onion ($3,600)
Stride Art Gallery ($33,000)
The New Gallery ($35,500)
TRUCK Contemporary Art in Calgary ($45,000)
Untitled Art Society ($11,500)
More information on the Operating Grant Program
Organizational Opportunity Grant
The Organization Opportunity Grant Program is a grant investment program, introduced in 2016, to provide small grants to Calgary arts organizations that are poised to enhance their contribution to the city. In 2017, Calgary Arts Development invested in 32 organizations through this program.
Acoustic Music Society of Calgary ($3,000)
Calgary Allied Arts Foundation ($2,000)
Calgary Boys' Choir ($1,500)
Calgary Chinese Orchestra ($1,800)
Calgary Concert Band ($2,000)
Calgary Korean Canadian Choir ($1,500)
Calgary Multicultural Choir ($3,200)
Calgary Protospace ($4,000)
Calgary Sketch Club ($2,850)
Canadian Academy of Mask and Puppetry (CAMP) ($3,000)
Chinook Musical Society ($2,400)
Contemporary Calgary ($20,000)
EnChor Choral Society ($1,800)
Evergreen Theatre ($4,130)
Footprints Dance Project Society of Alberta ($2,000)
Forte Musical Theatre Guild ($4,250)
Gli Azzurri – Calgary Italian Dancers ($1,200)
Harmony Guzheng Ensemble ($1,000)
Instrumental Society of Calgary ($2,000)
International Festival of Animated Objects ($3,000)
La Caravan Dance Theatre ($3,000)
Luminous Voices ($8,500)
Marda Loop Justice Film Festival ($3,000)
Music Calgary ($7,500)
Southern Alberta Woodworkers ($1,250)
The Eaglespeaker Community Connection ($2,700)
The League of Extraordinary Albertans ($2,800)
Tryzub Ukrainian Dance Society ($3,000)
Verb Theatre ($1,720)
VoiceScapes Music Collective ($3,000)
W.P. Puppet Society ($6,000)
West Village Theatre ($7,000)
More Information on the Organization Opportunity Grant Program
Calgary Arts Development Funding Comparisons
The following pie charts demonstrate some of the differences between the four categories: Cornerstone, Community, Professional, and Festival.
The Cornerstones receive 47% of Calgary Arts Development's Operating Grant investments and account for the majority of artistic spending amongst our 159 grant investees.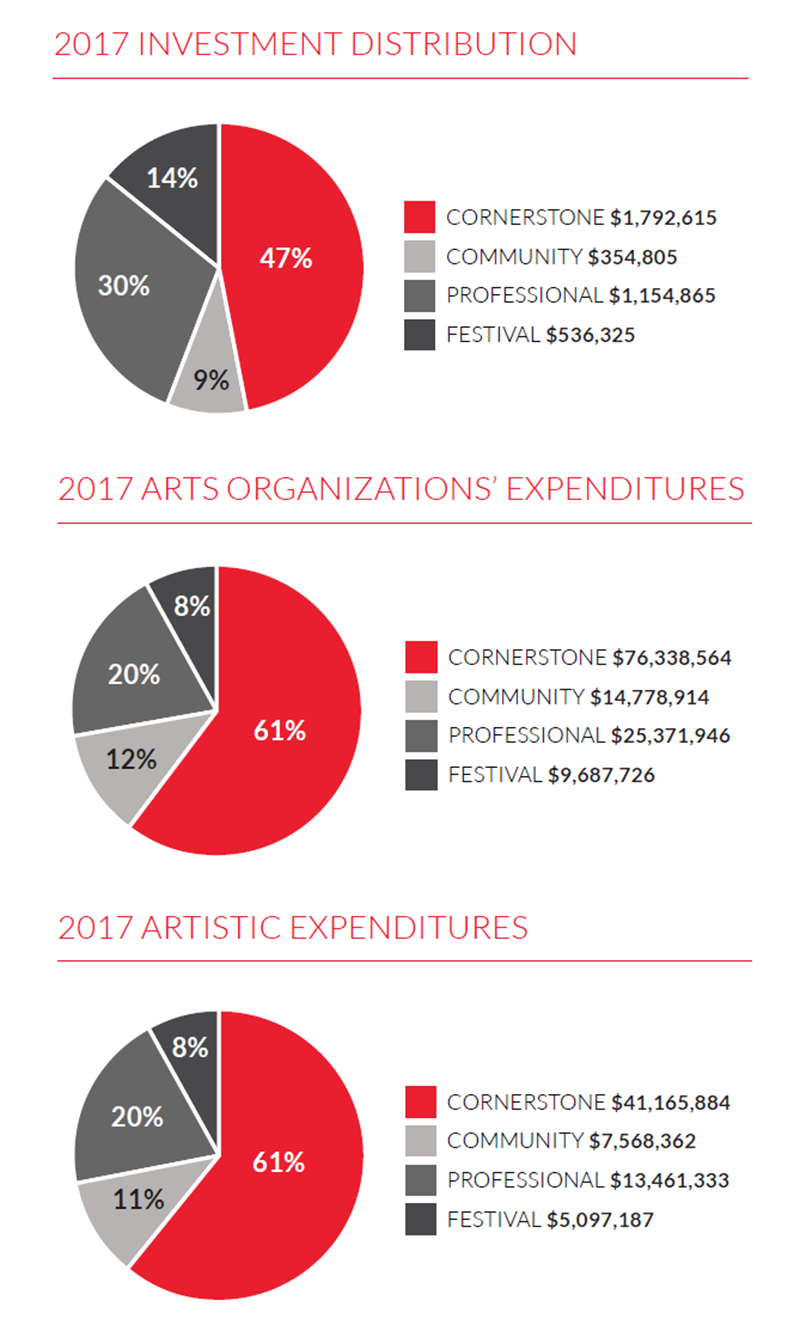 The following charts show that, not surprisingly, that Cornerstone organizations hold the majority of the hiring power within the pool of not-for-profit organizations funded by Calgary Arts Development, when it comes to full-time administrative and artistic staff. When considering artists alone however, significantly more artists are hired by the Professional and Community organizations. While 86% or more of the artists hired by Professional and Community organizations were paid standard fees/salaries, 100% of the artists hired by Cornerstone organizations were paid a standard fee or salary.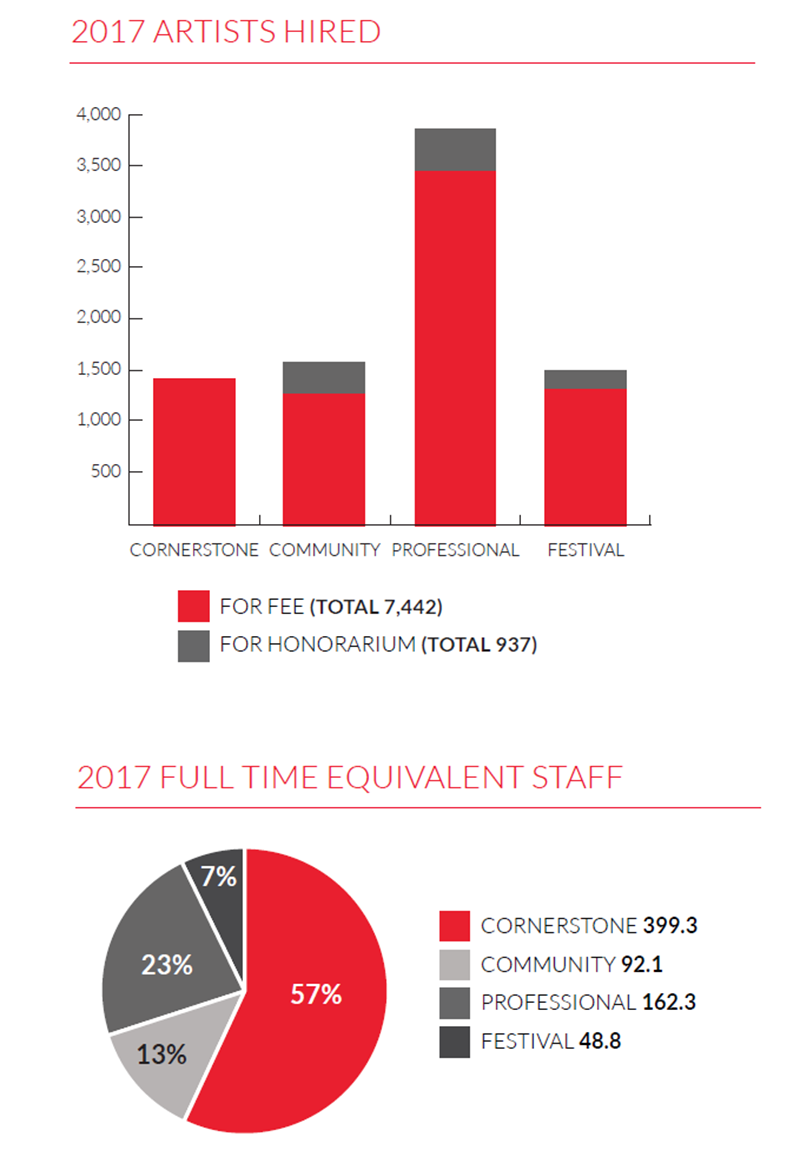 Professional organizations and Festivals present the majority of public activities.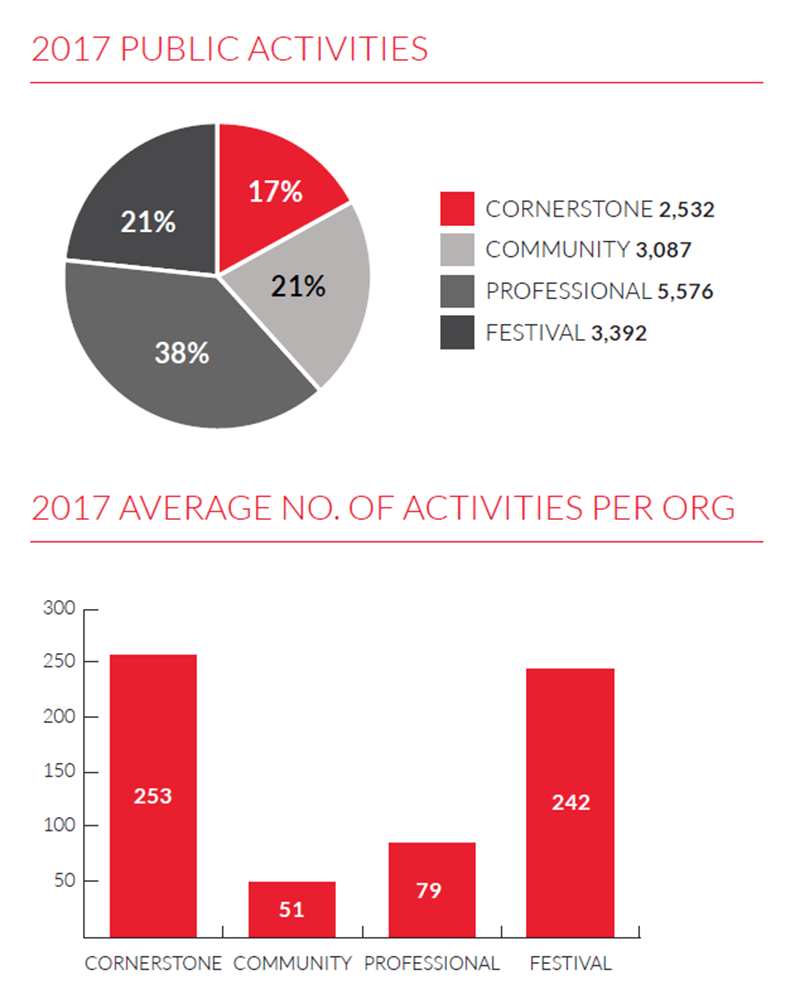 The following chart shows the attendance at Education Activities. Cornerstone and Professional organizations attract more than ¾ of the total audience to education activities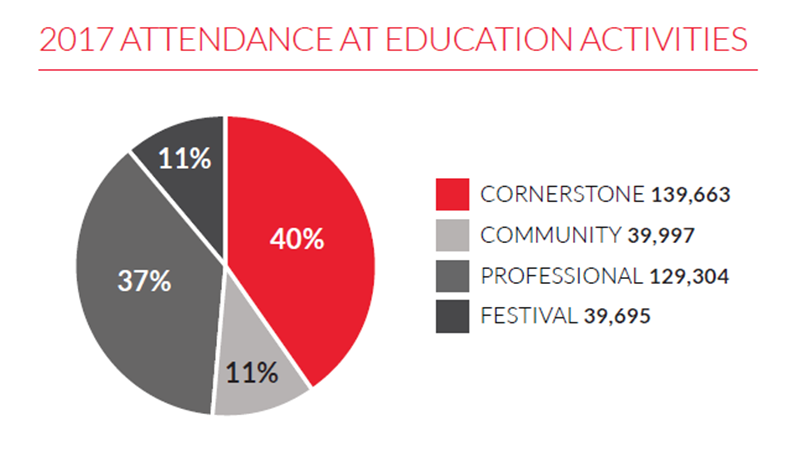 The 10 Cornerstone organizations attract 34% of the total audience base.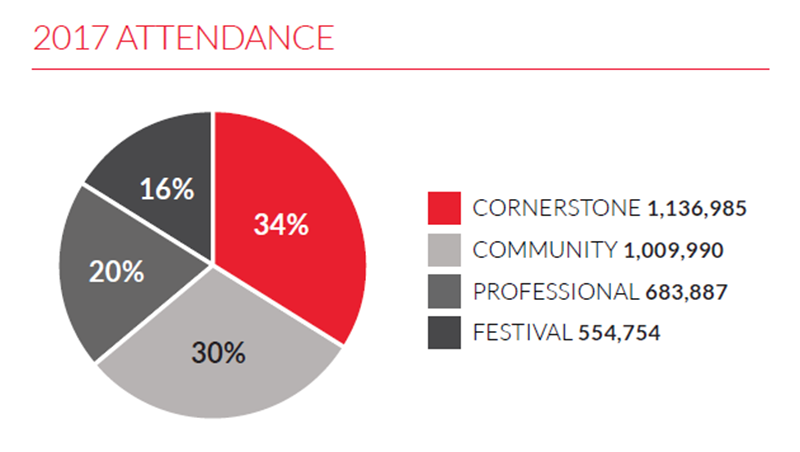 Note: Some charts may not add up to exactly 100% due to rounding.
Project Grant Program
The goal of the Project Grant Program is to support the creation of work that ensures citizens of Calgary continue to have access to meaningful, high-quality artistic experiences, investing in artistic projects that exemplify what our artistic community has to offer. The Project Grant is open to individual professional artists or collectives, and non-profit community or professional arts organizations.
Through two streams in 2017, this program invested $150,000 as follows: $60,000 in 18 professional artists and collectives, and $90,000 in 10 organizations. During this intake, 111 applications were submitted with a total dollar request of $660,369.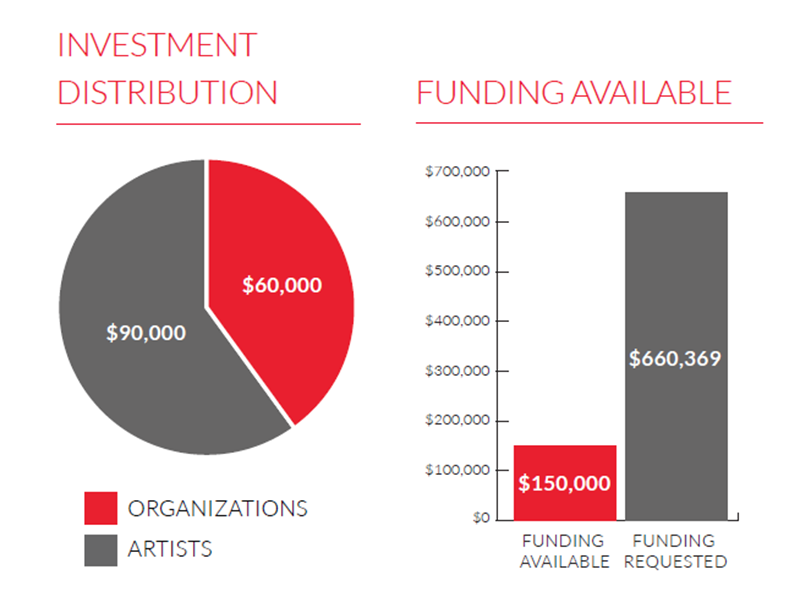 Professional Artists and Collectives
May Nyitrai, Denizens ($493.40)
Kevin Stebner, PowerGrid: Human-sized sampler ($1,000)
Michaela Jeffrey, The Listening Room ($2,300)
Emmy Li, Hustle YYC Workshop Series ($3,800)
Jean-Rene Leblanc, The Dream House Project ($4,000)
Kyle Thomas, Range Roads ($4,000)
Kyle Whitehead, WRGFB, Less is More ($4,000)
Anna Barker, Memento Mori ($4,300)
Dick Averns, Recognition… Validation… Reassurance… Art + Mental Wellness ($4,500)
Judith Mendelsohn, Belle Paris ($4,500)
Melanee Murray-Hunt, Race Anonymous: Do the Math ($4,700)
Hydration Collective, HYDRATION Artist in Residence ($1,000)
HOLYFRUIT!, HOLYFRUIT! Cabaret ($1,800)
Multivision Artists of Calgary, Then, Now & In-between Exhibition ($2,500)
CZAPNO ENSEMBLE, Iinisikimm… buffalo belong ($3,500)
UpRoot YYC, Exhibition and Pilot Residency ($4,000)
Project InTandem, InTandem Productions ($4,000)
Stoney Nakoda AV Club, Rez Dog Doc ($5,000)
Organizations
Chromatic Theatre, Winners and Losers ($3,500)
Handsome Alice, inVISIBLE ($9,000)
EMMEDIA Gallery & Production Society, Spectral Illuminations II ($9,355)
Fairy Tales Presentation Society, Snapshots: Calgary's Queer History ($9,355)
Ghost River Theatre, Undressed Phase 2 Workshop ($9,355)
Inside Out Theatre, Most Imaginary Worlds Development ($9,675)
Asian Heritage Foundation, Missing Chapters: Untold Stories of Asian Canadian Art & Artists in Calgary ($9,760)
Canada Bridges, Summer Filmmaking Camps–Discovering First Nations Stories ($10,000)
Illingworth Kerr Gallery, Alberta College of Art + Design, Situating the Present: Indigenous Art & Canada 150 ($10,000)
Old Trout Puppet Workshop, Underland ($10,000)
Remarkable Experience Accelerator
This unique investment program is delivered in partnership with the Calgary Hotel Association. In 2015, Calgary Hotel Association renewed a three-year commitment to the program and increased the investment to $1,200,000 over the three years. The program develops customized, multi-year investment strategies with arts organizations who present a compelling vision for remarkable experiences that benefit Calgarians and visitors alike.
In 2017 investments totaling $259,750 were made in the following organizations:
Beakerhead ($73,000)
Calgary International Film Festival ($50,000)
Folk Festival Society of Calgary ($55,000)
Honens ($65,000)
Wordfest ($16,750)
Through the 2017 investment, these organizations boosted Calgary's reputation as a cultural hotspot, engaging over 236,000 attendees, with 5% of that audience from out of town. Their activities generated over 2,300 known room nights.
More Information on the Project Grant Program
Small Experiments Grant Program
The goal of the Small Experiments Program, which ran in 2016 and 2017, was to provide support for Calgary artists, collectives and arts organizations looking to develop new approaches to challenges and opportunities relevant to their work. The program invests in low-risk, high-learning experiments demonstrating a clearly identified issue that needs to be addressed, a hypothesis being tested, and a method for collecting information and learning from results. The program was open to professional artists or collectives, arts-based community groups, and non-profit arts organizations registered as a society in the province of Alberta.
The program offered a maximum of $3,000 to cover expenses related to a single experiment. In 2017, 26 experiments were funded (representing 68% of the 38 applications received) with $69,796 invested (65% of the $107,663 in requests).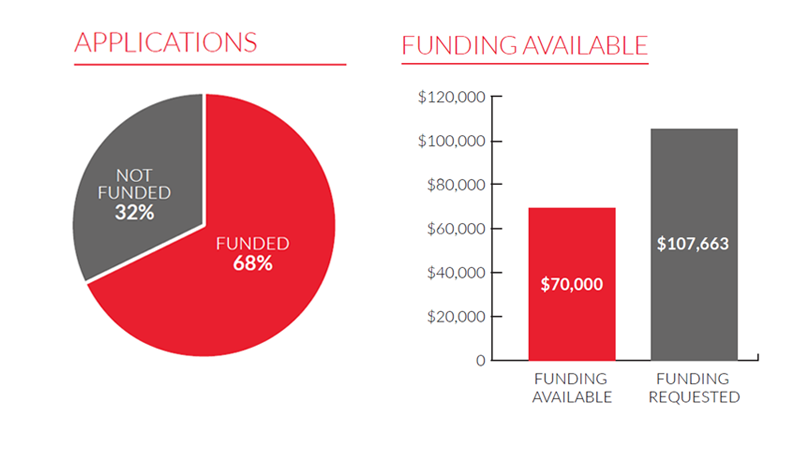 2017 Small Experiments Grant Recipients:
Alla Guelber and Eily Aurora, Inspiring Hearts Project ($3,000)
Bradley Dore, Together Apartment ($1,200)
Calgary International Children's Festival, Decentralizing an Outdoor Activity to Engage Older Children ($3,000)
Calgary Performing Arts Festival, CPAF in the community ($3,000)
Cowtown Opera Company, Opera Disrupted ($3,000)
Emmanuel Ho, Recursive Improvisational Experiments ($1,500)
Eveline Kolijn Studio, HAND TO MACHINE TRANSLATION ($3,000)
Joal Kamps, Cultivated Inspiration? An Experiment In Scheduled Artist Discipline ($3,000)
Justine Vandergrift, The CBC Radio Canadian Pop Radio Treatment ($2,900)
Lara Schmitz, Pottery & PUSSY- a responsive play ($1,911)
Linda Rempel, BONES MUSCLES SKIN: Drawing the Contemporary Classical Figure ($3,000)
Linnea Swan, Performance Aesthetic Transference ($3,000)
Lougheed House, Participatory Puzzle ($3,000)
Major Matt Mason Collective, Premium Content – Fluid Casting Workshop ($3,000)
Michelle Minke , M.O.M – Minkee Opera Music ($3,000)
Mynthia McDaniel, Cone 6 Soda Firing Experiment ($2,200)
Neurotrauma Tech, Projection Design for Aerial Arts ($2,623)
Rod Thomas Squance, Marimba Redesign for Suitability in Raga Music Experiment ($3,000)
Rosanna Terracciano, A New Anti-Burnout Model ($3,000)
Sally Reesman, Multi-Colored Multi-Plate Photopolymer Aquatint Etchings ($2,982)
Sam Hester, The 23rd Story, Visual Note-taking/Graphic Storytelling Workshop ($2,450)
Todd Kipp, The Butcher Chopping Sequence ($1,500)
Valentina Bertolani and Aura Pon, M-Body Music ($3,000)
Verb Theatre, From Your Mailbox to the Theatre – Audience Engagement through Narrative ($2,780)
W.P. Puppet Theatre Society, Is delivering Online Puppetry Learning viable for WP Theatre Society? ($3,000)
Zoong Nguyen, B(e)ARING MY BODY ($2,750)
More Information on the Small Experiments Grant Program
Calgary Arts Emergency Resiliency Fund
Through a $1M partnership with The City of Calgary in 2017, this program allocated investments to arts organizations that were affected by decreased revenues, such as earned and corporate support, and increased demand on programs as a result of the economic downturn. These funds were provided in order to ensure that Calgarians continued to enjoy the benefits of, and have access to, a strong local arts scene. The goal of this program was to provide one-time support for Calgary arts organizations that have been impacted by the economic downturn and global events.
In 2017, the Calgary Arts Emergency Resiliency Fund provided a total of $980,000 to 31 organizations. During this period, 36 organizations applied for a total of $2,602,015.64 in eligible requests.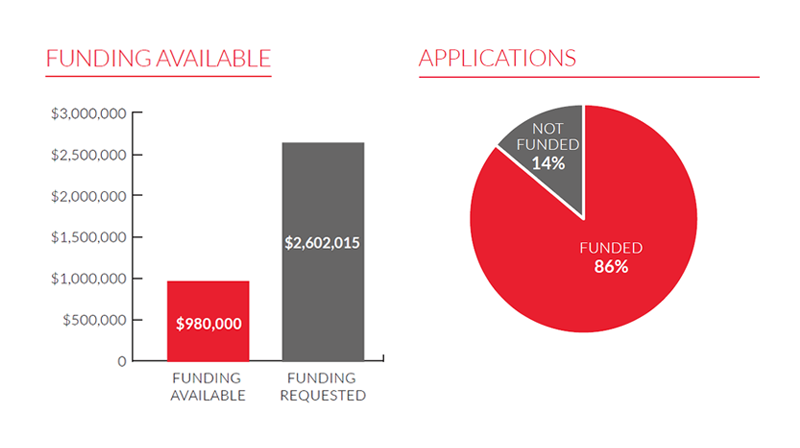 2017 Calgary Arts Emergency Resiliency Fund Recipients:
Alberta Ballet ($109,425)
Alberta Theatre Projects ($56,521)
Calgary International Children's Festival ($20,500)
Calgary Opera ($101,732)
Calgary Performing Arts Festival ($29,391)
Calgary Philharmonic Orchestra ($49,739)
Calgary Young People's Theatre ($5,280)
Cowtown Opera ($17,635)
DJD ($88,601)
Folk Festival ($27,130)
Ghost River Theatre ($10,595)
Glenbow ($67,826)
Green Fools Theatre ($8,641)
Honens ($27,130)
Lunchbox Theatre ($11,304)
National Music Centre ($41,433)
Quest Theatre ($36,324)
Sage Theatre ($4,522)
Sled Island ($41,148)
Springboard Performance ($18,461)
StoryBook Theatre ($15,826)
Stride Gallery ($5,878)
The New Gallery ($3,165)
TRUCK Contemporary Art in Calgary ($13,565)
Theatre Alberta ($6,783)
Theatre Junction GRAND ($87,488)
Untitled Art Society ($2,939)
Verb Theatre ($4,974)
Vertigo Theatre ($29,391)
West Village Theatre ($14,042)
Wordfest ($22,609)
More Information on the Calgary Arts Emergency Resiliency Fund
Engagement
Calgarians engage with the arts in many ways—by creating, participating, attending, and sharing. Calgary Arts Development hosts and leads a variety of programs and initiatives that investigate, develop, promote, and celebrate arts engagement in our city. Engagement in 2017 included:
Living a Creative Life: An Arts Development Strategy for Calgary
Living a Creative Life Congress
Aisinna'kiiks Dinner & Dialogue series
Calgary Poet Laureate Program
Mayor's Lunch for Arts Champions
Cultural Leaders Legacy Artist Awards
Engagement programs broaden the circle of arts champions and build momentum for the future by raising the value of the arts for Calgarians. These broader touch points with the public give greater meaning and value to our direct investments in Calgary's arts community.
Living a Creative Life
Vision: Calgary is a place that empowers every resident to live a creative life, fuelling a vital, prosperous and connected city.
Mission: To align and activate Calgarians in creating a vital, prosperous and connected city through the arts.
Since its launch in 2014, Living a Creative Life: An Arts Development Strategy for Calgary has gained momentum, both as a strategy and also as a way of life in Calgary. There are more than 140 signatories to the strategy and more organizations adopting the vision of Living a Creative Life in their own strategies and plans.
More Information on Living a Creative Life
Living a Creative Life Congress
The Living a Creative Life Congress took place in November 2017 at the Grey Eagle Event Centre with approximately 120 participants. The purpose of the event was to gather feedback from the community about what is needed to make Calgary an even better city with and through the arts. Speakers included: Vanessa Gagnon, Manager, Brand, Tourism Calgary; Sarah Iley, Manager, Arts & Culture, The City of Calgary; and artists Maria Hoover, Elaine Lee, Chantal Chagnon, and Cowboy Smithx. Facilitators for the event included: Brenna Atnikov, Jill Andres, Tim Fox, Mark Hopkins, Anne-Marie Pham, and JoAnn Reynolds.
Two questions were posed:
How could the arts and creative approaches be used to mobilize Calgary's untapped community spirit and vitality to transform the gap between how we see ourselves and how the world perceives us?
What conditions might be necessary to enable the arts and creative approaches to play a significant role in shaping the future of Calgary's culture?
The afternoon was used to gather feedback from the community to the two questions. Responses from participants were consolidated into the following themes:
Bridging the gap between the arts and the public.
The role of arts and artists.
Equity, Diversity, and Inclusion.
Calgary's brand and community spirit.
Funding/grants/conditions for artists.
Policy, structure, bylaws, city hall.
Education/youth.
Spaces.
What needs to be done.
Read the Living a Creative Life Congress Summary Report
Aisinna'Kiiks Dinner & Dialogue Series
Originally created and developed by Making Treaty 7 Cultural Society, the purpose of the dinner and dialogue series is to promote reconciliation between Indigenous and non-Indigenous people. For this series, we partnered with the Calgary Board of Education under the leadership of Julie Barton, Specialist, Off-campus/Fine Arts. Elder Saa'kokoto (Randy Bottle) helped guide the process and gave our Common Ground series a name—Aisinna'kiiks, meaning those who record or those who draw.
Participants gathered for four evenings, each of which included a meal, conversation, and an arts experience.
The lens we used for this work was one of arts, artists and creativity, with an additional focus on education and learning. Each table included an elder, an artist, an educator, an arts leader, a student, and arts and community influencers. Conversations focused on reconciliation and right relations.
The events took place on:
Monday, September 25, 2017 at Lester B Pearson High School
Thursday, October 19, 2017 at Nelson Mandela High School
Monday, November 20, 2017 at Grey Eagle Hotel
Monday, February 12, 2018 at Niitsitapi Learning Centre
Participants, who expressed their appreciation for the elders, youth, and artists who took part, were deeply affected by the artistic responses to the conversations. They appreciated the opportunity to learn through the elders' stories, experience the power of the circle, and forge new relationships. This was part of testing Calgary Arts Development's hypothesis that arts and artists can play a powerful role in reconciliation.
Calgary Poet Laureate
The Calgary Poet Laureate is an artistic ambassador for Calgary, presenting at civic events and producing literary works that reflect our city and its citizens. 2017 was Micheline Maylor's second year as Calgary's Poet Laureate.
In 2017, Micheline Maylor participated in over 100 public events. Micheline describes the following events as some of the highlights:
The Walrus Talks, which reinforced the power of art to heal and connect people.
The Calgary Board of Education Principals Conference, which opened a tsunami of inspiration and requests for appearances—not all of the requests for appearances could be met, there were so many.
The Gay Pride Parade, which was rewarding because of the reaction from the crowd. Many people were crying and deeply moved by the freedom of expression that exists in our society. And it was illuminating in a way that could not possibly have been as affecting in another way.
The Women's March—the sheer volume of people shocked us all. More than 5,000 people showed up and the sound system was not prepared for such a crowd. Regardless, I read a poem and it was well received by those who could hear it. The March was a powerful and impactful political moment for the city.
In addition to the highlighted events listed above, Micheline also led or participated in the following educational workshops, lectures, talks, and interviews. These weren't just poetry readings, rather talks or seminars for the purpose of education about poetry:
Calgary Public Library and the Alexandra Writers Centre Society: Creativity and the Muse
Published in Canadian Magazines: Form Poetry; and Improve your style.
Read at TEDx. Spoke at the Women's Club.
Interviews on CBC, CJSW, and other talk radio stations.
Engagement with Making Treaty 7 Cultural Society to teach Elders how to write Haiku. Some of them were really skeptical and insecure, but we worked through it and there were a lot of smiles and increased confidence about their ability to say something beautiful. This particular project also lead to my writing the story of Vincent Yellow Old Woman into a poem. He granted me permission to do so and it tells the story of him waiting for his father to return to pick him up from residential school. It is something I will not forget.
The Calgary Poet Laureate program awards each Poet Laureate an annual honorarium of $10,000, funded by a group of Calgary Poet Laureate Ambassadors. 2017 Ambassadors included the Calgary Foundation, the Calgary Chamber, and First Calgary Financial.
More Information about the Calgary Poet Laureate Program
Mayor's Lunch for Arts Champions
The Mayor's Lunch for Arts Champions is an annual event organized by Calgary Arts Development and the Office of the Mayor that aims to celebrate and inspire both new and veteran arts champions to support Calgary's arts sector through investment, promotion, and participation.
The sold-out event was held on March 22, 2017 at the BMO Centre, with more than 650 attendees.
Programming included a video presentation of the 2017 Cultural Leaders Legacy Artist Award recipients, the TELUS Youth Arts Showcase, a Q&A with attendees about the ways in which people can champion the arts in our community, and comments from emcee Dave Kelly as well as His Worship Mayor Naheed Nenshi.
Proceeds from the 2017 Mayor's Lunch for Arts Champions contributed resources back into the arts sector through our grant investment programs. The event raised approximately $20,000 in 2017.
Calgary Arts Development thanks the event's sponsors:
Champion Sponsor
Strategic Group
Youth Arts Showcase Sponsor
TELUS
VIP Table Sponsor
TD Bank Group
Arts Patron Table Sponsors
Alberta College of Art + Design
Aspen Properties
ATB Financial
Brookfield Residential
Calgary Flames Foundation
Calgary Municipal Land Corporation
Kasian Architecture Interior Design and Planning Ltd.
KPMG LLP
Nexen, a CNOOC Limited Company
Video Sponsor
Nur Films
Floral Sponsor
Peaseblossoms Flowers & Stuff
More Information on the 2017 Mayor's Lunch for Arts Champions
Cultural Leaders Legacy Awards
The Cultural Leaders Legacy Artist Awards offered each of six recipients a $5,000 cash prize, totalling $30,000.
Presented each year at the Mayor's Lunch for Arts Champions, the awards are a legacy of our year as a Cultural Capital of Canada in 2012. Each award is funded by a $10,000 contribution from a local philanthropist or sponsor, with a $10,000 matching donation from the Calgary 2012 legacy fund.
The 2017 recipients recipients were:
Kris Demeanor (Doug and Lois Mitchell Outstanding Calgary Artist Award)
Kris is an artist who has made his home in Calgary and uses his diverse talents to entertain, educate, inspire and unite Calgarians.
Antyx Community Arts (Colin Jackson and Arlene Strom Creative Placemaking Award)
Antyx Community Arts provides innovative and creative placemaking opportunities for children in the wider Forest Lawn community and has been vital in activating the new Forest Lawn Natural Park space.
Stephane Nouz (Calgary Catholic Immigration Society New Canadian Artist Award)
Stephane Nouz is a young rapper, producer and songwriter whose impact can be seen among the youth of his generation and the elders around the local communities in Calgary.
Benjamin Ross Hayden (RBC Emerging Artist Award)
Benjamin Ross Hayden is an award-winning Métis Calgarian film director/screenwriter who obtained a theatrical release in Canada at the age of 27. His debut feature film Northlander was selected for the Perspective Canada program at the Cannes Film Festival.
The New Gallery (Sandstone City Builder Award)
The New Gallery provides a venue and programming for artists at all junctures of their career to foster work that is both social and political in nature.
Teresa Coulter (ATB Financial Healing Through the Arts Award)
Teresa's homegrown art has raised awareness of mental health well beyond her studio and her first-responder network. Her work is being recognized nationally; art is a healing pathway for all.
A special thank you to Banff Centre for Arts & Creativity for the Artist Residency granted to this year's Outstanding Calgary Artist Award recipient.
More Information on the Cultural Leaders Legacy Awards
Spaces
Access to affordable and suitable space is essential for a healthy arts community. Arts spaces are needed for every link in the value chain from creation space, rehearsal space, production space, warehouse and storage space, and office space through to presentation and performance space. Arts spaces support all disciplines in the sector, including dance, film, literary arts, music, new media, theatre, and visual arts. They support community arts, professional arts, and education in the arts. Calgary Arts Development runs a variety of initiatives that support artists' and arts organizations' access to space.
In 2017, Calgary Arts Development published a new arts and culture infrastructure report called Building on our Momentum. The report examines achievements over the past decade and includes recommendations that reflect the current space needs and preferences of Calgarians to live creative lives, and to position Calgary to take advantage of future funding opportunities. The 2017 report builds on the work of Reclaiming Calgary's Cultural Identity: Arts Spaces Strategy and Capital Plan, published in 2007.
Building on our Momentum outlines several key findings and identifies tactics to help achieve the recommendations over the next 10 years. The overarching consistent theme that emerged through public consultation was a desire to ensure accessibility to spaces, accessibility to programs, and accessibility to opportunities for creating and presenting work.
The report listed four recommendations to ensure citizens have access to wonderful gathering places to share artistic experiences with loved ones, colleagues and visitors, including those who are currently underserved. The report encourages funders to protect and strengthen the noteworthy investments that have already been made, by shoring up our current facilities with greater operational resilience.
Recommendation I
Ensure arts and culture infrastructure reflects demographic changes and population growth
Outcomes
ŠŠIndoor and outdoor infrastructure priorities meet the needs of our diverse community.
Recommendation II
Infuse neighbourhoods throughout the city with creativity through accessible and vibrant spaces
Outcomes
ŠŠCalgarians have suitable arts and culture space that meets their evolving needs in appropriate locations.
ŠŠCreative placemaking includes artists and arts and culture organizations to create vibrant neighbourhoods.
Recommendation III
Protect and sustain our current arts and culture infrastructure
Outcomes
ŠŠOwners/operators of arts and culture infrastructure have sustainable funds to cover operating and maintenance expenses.
ŠŠThe use of existing arts and culture infrastructure is financially accessible for Calgarians.
ŠŠArts and culture infrastructure achieves its fullest and best use.
Recommendation IV
Continue to invest in the creation of new arts and culture infrastructure, building on what we've learned over the past 10 years
Outcomes
ŠŠGovernment, philanthropic organizations and the private sector continue to invest jointly in needed arts and culture infrastructure in Calgary.
ŠŠOrganizations leading capital projects have adequate resources to determine project viability at an early stage of project planning.
ŠŠMunicipal funds earmarked for arts and culture infrastructure go toward projects that will fill an identified gap in Calgary's arts and culture infrastructure, such as infrastructure that supports Indigenous culture, major outdoor events, incubator spaces including all-ages/youth space, live-work spaces and multi-tenant hubs.
It may also include infrastructure in underserved areas within the city including East Calgary.
ŠŠIncrease awareness in and the ability of bylaw and other municipal mechanisms to encourage the development of cultural space.
More Information on Building on our Momentum
Interactive Map
Published alongside Building on our Momentum, Calgary Arts Development created an interactive map to understand how existing arts and culture infrastructure correlates with demographic data. The mapping can be used to determine gaps in professional and non-profit arts spaces, and culture, community and entertainment spaces that support living a creative life.
More Information on Existing Arts and Culture Infrastructure
SpaceFinder Alberta
SpaceFinder Alberta completed its first full year of operations in 2017. SpaceFinder Alberta is part of a national initiative including six platforms being developed in Canada with support from Canadian Heritage.
This online marketplace links organizations that have space to rent with those who need space. By year-end there were over 600 different venues featured on SpaceFinder Alberta, most of them in Calgary. Calgary Arts Development partnered with the Alberta Real Estate Foundation, ArtsBuild Ontario and Fractured Atlas (New York) to bring SpaceFinder Alberta to Calgary in 2016.
SpaceFinder is a proven technology at work in municipalities across North America. Useful for all Calgarians, SpaceFinder Alberta includes detailed search criteria that pinpoints features needed by artists and arts organizations. Calgary Arts Development continued to partner with Edmonton Arts Habitat in 2017, as well as bringing SpaceFinder to Red Deer, Medicine Hat, Lethbridge, and Fort McMurray through various partners and contractors. This work is funded by the Alberta Foundation for the Arts and the Alberta Real Estate Foundation to broaden SpaceFinder's reach to more communities in our province.
In addition to being a match-making service for renters and venues, SpaceFinder is also a database with built-in metrics reports (including rental rates, usage rates, user and venue data) that can be used by venues, analysts and policymakers. In 2017, the platform showed the following usage:
19,179 searches on SpaceFinder AB
17,429 searches generated more than one result
More Information about SpaceFinder Alberta
Cultural Space Investment Process (CSIP)
The Cultural Space Investment Process (CSIP) was a capital project evaluation process established by Calgary Arts Development to inform City Council and the municipality of priorities for community-led cultural infrastructure projects. The City requested that there be no new intake of projects to CSIP as of 2016 while previously recommended projects were reviewed.
Projects previously recommended by CSIP assessors for municipal investment in spaces that support music, theatre, film, performing arts, and visual arts include:
Folk Festival Hall (completed)
University of Calgary's Nickle Arts Museum (completed)
Mount Royal University's Bella Concert Hall (completed)
Calgary Economic Development's Film Centre (completed)
DJD Dance Centre (completed)
Studio Bell, home of the National Music Centre (completed)
cSPACE King Edward School Arts Incubator (completed)
Contemporary Calgary (Centennial Planetarium base building work scheduled for 2017)
In-Definite Arts Society (funding being pursued through another City program)
Open Doors St Stephen's (not funded)
Alberta Ballet's Dance Facility (in development)
Calgary Opera Centre at the Calgary Stampede Youth Campus (in development)
cSPACE Projects' Artist Studios (in development)
Artists in the Workplace
In 2016 the Calgary Chamber, in partnership with Calgary Arts Development, launched a new initiative called Artists in the Workplace. This program was kick-started by Calgary Poet Laureate derek beaulieu to connect businesses who have extra space with artists seeking space to work. The program allows businesses to identify themselves as having space available, and Calgary Arts Development helps match them with an artist or organization to animate their space. In 2017, Artists in the Workplace spaces was migrated over to the SpaceFinder Alberta platform.
cSPACE Projects
cSPACE was created in 2011 as a subsidiary of Calgary Arts Development in partnership with the Calgary Foundation. Its purpose was to provide the conditions that diverse communities of creatives need to remain vital, sustainable, and innovative while generating dividends for Calgarians across the city–shared space, vibrant community, and knowledge-sharing.
cSPACE King Edward opened in 2017 as their inaugural flagship project, delivering a 47,500 s.f. arts hub, innovative event venue and coworking space in Marda Loop. Over 30 tenants moved in to the facility in January, ranging from individual artists and collectives to non-profits like Alexandra Writers' Centre, Rozsa Foundation, Theatre Encounter, Sage Theatre, Making Treaty 7 Cultural Society, Forte Musical Theatre Guild, Quest Theatre, Alberta Craft Council, Alberta Magazine Publishers Association and Studio C Collaborative Art Centre. The building was 100% leased out at opening day.
Throughout 2017, the four historic hallways of the former school building were transformed for major exhibitions including the inaugural People's Portrait Prize, Ad Rodeo, Exposure Photography Festival, I Am Western, and many individual multi disciplinary artist shows.
Three public art projects valued over $230,000 were commissioned by cSPACE through a juried process, supported in part by a new Alberta Foundation for the Arts grant. daniel j. kirk and Katie Green completed their Imaginarium project, stretched over four floors of a new glassed-in stairwell. Yesterday, Today, Tomorrow and After Image were two concepts by Caitlind Brown, Wayne Garrett, and Lane Shordee that were chosen by separate juries. A documentary film of the artistic processes was initiated in 2017 and will be completed along with these remaining public art projects in 2018. cSPACE also commissioned Vernal Vogel to create a large-scale installation for the new coworking space, completed in time for the Alberta Culture Days celebration at the hub.
In late 2017, the construction of the 6,500 s.f. contemporary 'west wing' was completed, including the top-floor RGO Treehouse event space, 138-seat Studio Theatre and a coworking space. The Sandbox has 20 flexible coworking desks for use by freelancers, small companies, writers, designers, and non-profits working across sectors. The Treehouse is a highly adaptable event, meeting, and conference space that supports community events, corporate launches, fashion and art shows, rehearsals, education seminars, artist discussions, and entrepreneurship training.
cSPACE was recognized for its vision to combine historic preservation with contemporary design for the development of the creative hub by receiving the Mayor's Award for Urban Architecture in 2017.
More Information on cSPACE King Edward
Awareness
As part of its role as a communications hub and connector, Calgary Arts Development serves Calgary's arts community and engages the public through the following:
What's On In Calgary
Part of the Calgary Arts Development website, What's On In Calgary offers a listing of events, exhibitions, festivals and performances in Calgary. In addition to being posted on our website, these listings are also promoted through a weekly newsletter and through social media. In 2017 What's On shared 749 stories including a weekly round-up of free events, a monthly story showcasing visual arts, and 43 Hot Ticket productions.
The Storytelling Project
An idea that came out of the Creative Calgary Congress 2015, The Storytelling Project features a weekly story about someone in Calgary who is living a creative life. Writer Stephen Hunt conducts interviews and creates written stories about these creative Calgarians. A partnership with Village Radio added a bi-weekly podcast component featuring an interview by Dave Kelly with a creative Calgarian. In 2017, we shared 25 written stories and 24 podcast stories through The Storytelling Project.
Classifieds
The Calgary Arts Development website hosts a robust and popular classifieds section. This free service is an online venue for sharing announcements relevant to the arts sector such as job listings, volunteer opportunities, audition notices, calls for submissions, educational opportunities, industry events, items for sale or wanted, requests for proposals and notices of spaces available or wanted.
The classifieds fill an important communications niche for the arts community, and generated the following activity in 2017:
The following charts and graphs show Calgary Arts Development newsletter and social media metrics for 2017: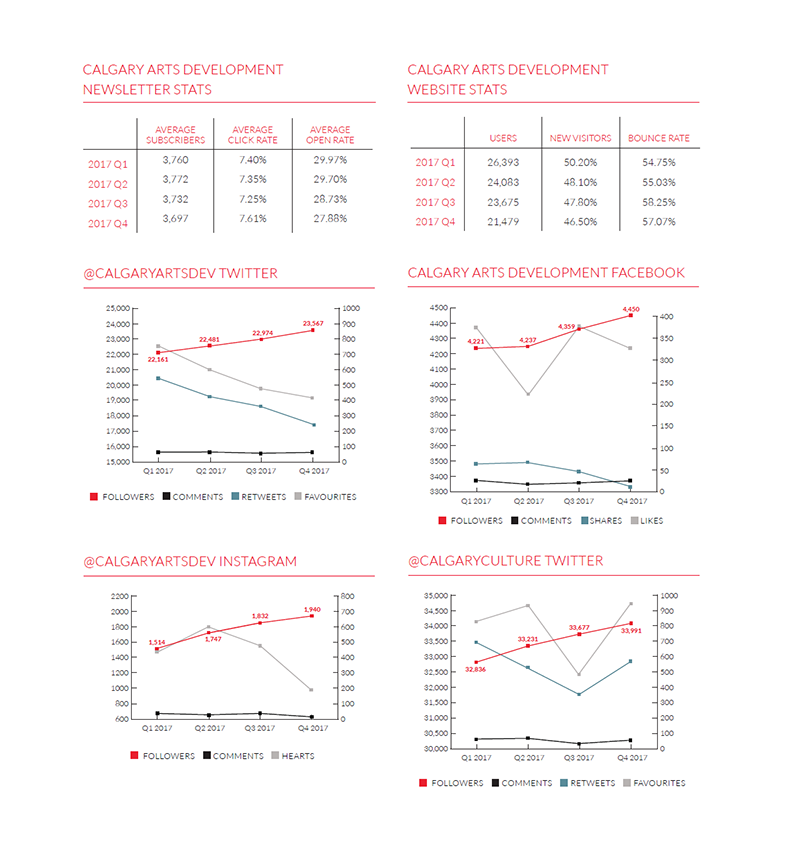 Partnerships & Collaborations
Calgary Arts Development continues to build partnerships with other organizations in order to ensure that arts and artists are included and supported in as many corners of the community as possible. Here are a few examples of specific connections that took place in 2017.
Artsdance
Artsdance is another idea that emerged from the 2015 Creative Calgary Congress. Led by Cowboy Smithx and the Iiniistsi Treaty Arts Society, the second year of Artsdance took place at Theatre Junction GRAND on September 28, 2017. Artists and arts organizations came together with elders and Indigenous performers to share their work and stories through the lens of Indigenous ways of knowing and ceremony. Calgary Arts Development was pleased to support Artsdance through an ArtShare grant.
Calgary Board of Education
Calgary Arts Development continues to participate on the Calgary Board of Education Fine Arts Advisory Council and, in 2017, Calgary Arts Development Director of Community Investment and Impact, Emiko Muraki, participated on the Research Sub-committee.
Calgary Arts Development acknowledges and thanks Calgary Board of Education for co-hosting the Aisinna'kiiks Dinner & Dialogue series.
University of Calgary Werklund School of Education
Calgary Arts Development is currently partnering on a pilot project with Dr. Brittany Harker Martin from the Werklund School of Education. The partnership aims to modify Dr. Martin's socially empowered arts learning framework and related scale for practical use by not-for-profit arts organizations seeking to evaluate their arts education offerings.
The original framework and scale investigated learning that is designed to be socially empowered through a combination of social enterprise and the arts which increases entrepreneurial spirit and intellectual engagement. In Dr. Martin's work the highest increase in intellectual engagement, social empowerment and entrepreneurial spirit came from a program that combined both social enterprise and arts learning. English as a second language students had higher scores on intellectual engagement than those with English as a first language. The findings of our pilot program using the modified scale will be available in late 2018.
Download The Rozsa Foundation Kids Go Global and Socially Empowered Learning Research Report
Information Sharing
Calgary Arts Development President & CEO, Patti Pon, and Board Chair, Dean Prodan, conducted one-on-one meetings with City Councillors to share with them how much arts activity is provided by organizations that receive funding from Calgary Arts Development in each of their wards.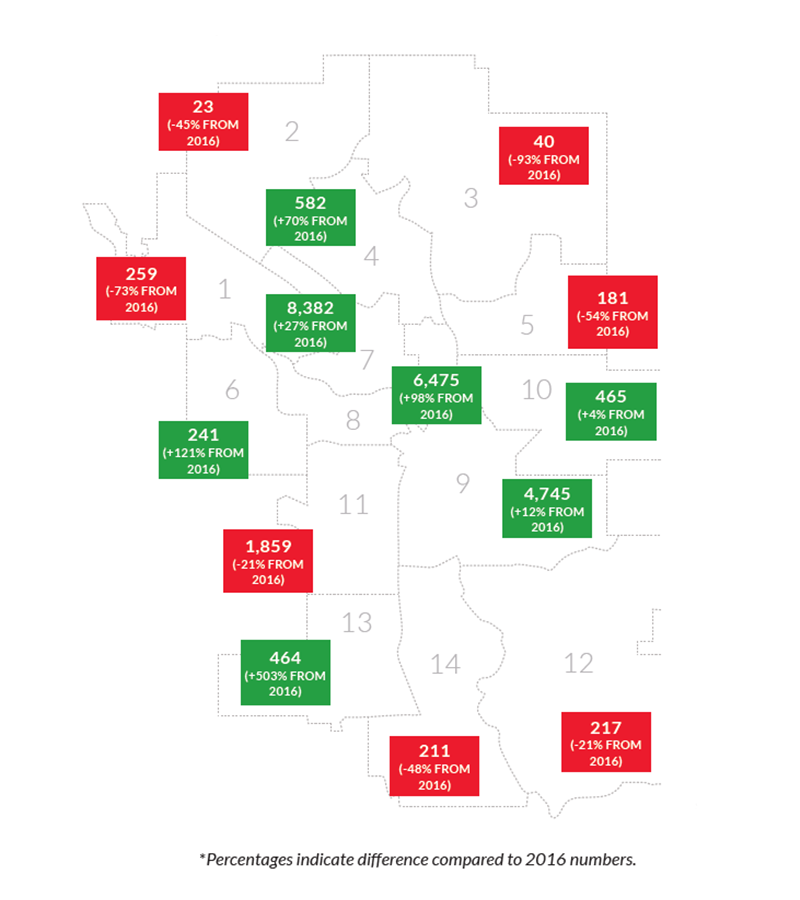 Calgary Arts Development attended a number of meetings with Provincial Government officials including a provincial budget consultation hosted by Finance Minister Joe Ceci, MLA Sandra Jansen, MLA Robin Luff, and Anne McGrath, with 70 people in attendance. Patti also attended the provincial budget announcement, with a special session hosted by Minister Ricardo Miranda. The Province has increased its support for the arts through additional funding to the Alberta Foundation for the Arts.
Tri Level Funding meetings with Canada Council for the Arts, Canadian Heritage, Alberta Foundation for the Arts, Edmonton Arts Council, Wood Buffalo Arts Council, Calgary Arts Development and Calgary Foundation continued through 2017. These are valuable information-sharing meetings, which keep funders informed of national trends and activities.
Patti contributed to a round table discussion on the role of incubators and hubs in the creative industries hosted by Minister of Canadian Heritage Mélanie Joly, and the McConnell Foundation.
Calgary Arts Development hosted Minister Joly at a Creative Canada Fireside Chat at the National Music Centre with 125 people in attendance. The Creative Canada Policy Framework, released in 2017 by the Department of Canadian Heritage, is about positioning Canada as a world leader in putting its creative industries at the centre of its future economy. Although its focus is primarily on the cultural industries (film and television, video games, music industry, books, and virtual/augmented reality), it cites the importance of working with other partners including the Canada Council for the Arts, which, like Calgary Arts Development, focuses its funding primarily on the nonprofit arts sector. It also refers to the important role towns and cities across the country have in building their local creative sector. Culture has a significant economic impact in Canada, providing 630,000 jobs and contributing $54.6B per year in economic output. The role Calgary Arts Development plays in bolstering the creative economy in Calgary is through our granting streams, which strengthen and support the nonprofit arts sector. In order to have strong creative industries, conditions for everyday creativity and a thriving non-profit arts sector are necessary.
Calgary Arts Development Community Investment staff were amongst the Calgary contingent that attended the Digital Summit hosted by the Canada Council for the Arts in Montreal. The summit focused on cross-sector conversations to understand how the arts sector can better respond, leverage and optimize the disruptions provoked by digital technologies. These conversations situated the arts as a key driver in the creative industries and part of the world's fastest growing economy—the creative economy.
City Building
Arts-led city-building by Calgary Arts Development aligns with strategies of other civic partners such as Calgary Economic Development (CED), Tourism Calgary, Sport Calgary, the Calgary Chamber, Downtown Calgary, the Calgary Foundation, and many more. Strong relationships with these and other partners continued through 2017.
The City of Calgary
Calgary Arts Development continues to work closely with the City of Calgary, especially, with Arts and Culture, as well as with the Office of the Mayor. Calgary Arts Development supports the Cultural Plan, as adopted by City Council on November 28, 2016. Calgary Arts Development also appoints a member to The City of Calgary's Event Advisory Committee and a member of the Calgary Arts Development Board sits on The City of Calgary Public Art Board.
Tourism Calgary
Calgary Arts Development continues to work closely with Tourism Calgary, including participation in discussions about Calgary's Destination Strategy: Ultimate Hosts. Ultimate Host City. Calgary Arts Development and a number of artists were also involved in focus groups for the brand research conducted by Tourism Calgary in 2017. Vanessa Gagnon of Tourism Calgary presented the results of the research to the arts community at the Living a Creative Life Congress in November.
Calgary Economic Development
Calgary Arts Development is a lead stakeholder on the CED Economic Development Strategy and CED is a signatory to the arts strategy Living a Creative Life. Board Chair Dean Prodan attended a round table session on the development of innovation in Calgary, which determined that innovation incubators should be developed and include artists to help widen the opportunities for innovative and creative collisions.
A Downtown Economic Summit in March 2017 was hosted jointly by The City of Calgary, CED, and CMLC with approximately 160 participants. The summit was to identify emerging trends and opportunities and create action plans to ensure Calgary's Centre City continues to be a great place to live, work, and play. Of the 10 priorities listed by participants, three centered around arts and culture: an Arts & Culture District, Events and Festivals, and Music City district. Each of the priority areas will help to establish Calgary as an artistically vibrant city and cultural destination—important to both Calgary Economic Development, and Tourism Calgary.
Other City-Building Activities
In 2017, Calgary Arts Development participated in the following:
Vivacity: A conversation about life, diversity and prosperity in the Core–a collaboration between MRU and Ambrose University.
REAP's Innovating for Shared Prosperity event focusing on community economic development.
Soul of the Next Economy—Patti Pon was a panelist at a session titled Millennials and the next economy: the role of social and civic innovation and the arts.
Calgary Arts Development sponsored artists to animate and activate EconoUS in September 2017. We received glowing feedback about the animation the artists contributed to the national conference on community economic development.
Calgary Arts Development sponsored artists to participate in First Flip, one of the first public engagement events that kicks off Stampede, with Downtown Calgary, Tourism Calgary, Calgary Economic Development, TELUS Convention Centre, and other city builders.
Equity, Diversity and Inclusion (EDI)
In 2017, Calgary Arts Development continued its work in the area of Equity, Diversity and Inclusion (EDI). We participated in a number of training sessions and other initiatives to increase our own knowledge and capacity, as well as a number of discussions, panels, and other events including:
A roundtable discussion about issues impacting newcomers and those living in poverty, hosted by the Aga Khan Council for Canada, the Calgary YMCA, and the Calgary Foundation.
Exploring Community in Modern Society hosted by the Ismaili Foundation of Southern Alberta, the United Way, and the Calgary Foundation.
Calgary Arts Development Manager of Community Investment Jordan Baylon participated in a steering committee for the Genesis Centre's Canada 150 Celebrations, which included monthly events themed around important aspects of community and a large-scale Canada Day celebration that engaged 65,000 people across 33 programs. His role was to advise on how the arts and artists could be integrated across all activities to strengthen community development.
RBC round table discussion about youth development.
Centre for Newcomers Youth Roundtable for ImagineNation 150: Possible Canadas–Aspirations, hopes, contributions and fears for our nation.
Art opening at McDougall Centre—Art from the Unknown—which celebrated diverse artists who are not part of the mainstream.
Trading Post 150—an event featuring speakers, arts and crafts, and performances recognizing past events and future possibilities for Indigenous peoples of Treaty 7.
Indigenous Education Series offered by CBE at the Glenbow Museum.
Workshop hosted by the Calgary Foundation about the impacts of intergenerational trauma.
Through a partnership with the Calgary Congress for Equity and Diversity in the Arts (CCEDA), Calgary Arts Development undertook a sector-wide survey to establish the first ever demographic profile of the arts sector in Calgary, to better understand how representative the arts sector is of the population at large. Survey collection wrapped up on December 31, 2017 and the demographic profile will be available in 2018. Calgary Arts Development staff also participated in the marginALL Arts Equity Pilot Workshop led by Michele Decottignies as part of our partnership with CCEDA.
Asian Heritage Foundation Missing Chapters story selection jury. Patti Pon's story was also selected (by a separate jury) to be part of the Missing Chapters exhibition.
Patti Pon—panel speaker, Diverse Voices in the Arts, co-hosted by the Asian Heritage Foundation and Vertigo Theatre.
Knowledge and Research
Calgary Arts Development draws on different kinds of research and leverages our knowledge to fulfill our vision and mission. We gather and share information to strengthen the arts sector and build a great city. Our four main areas of work are:
Program Evaluation
Data collection on individual programs.
Assessment of how well each program is achieving its goals.
Determination of what is working and what is not working at a tactical level.
Customization of programs or course correction.
Indicator Tracking
Collected and reported annually.
Used to monitor performance against strategic plan and determine what we are doing and how much/well we are doing it.
Collected through Calgary Arts Development processes and systems such as the grant interface, Google analytics, social media monitoring, grant applications, etc.
Impact Measurement
Arts-led city-building: Data collected and reported annually through the Arts in Action website and collateral demonstrate how the arts contribute to Making Connections, Shaping our Identity, Boosting the Economy, and Inspiring Youth.
Demonstrates the value of the arts sector to our shareholder and the public.
Demonstrates the intrinsic and instrumental benefits of arts investment in Calgary.
Research
In-house qualitative data collection such as grant applications and grantee final reports.
Completed on a project by project basis.
Primary and secondary data collection used to learn more about current trends relevant to the arts sector, such as audience digital media patterns.
Publication of the most recent Arts Engagement Research Study
Key to achieving our mission of supporting and strengthening the arts to benefit all Calgarians is an understanding of how the community perceives and engages with the arts. In the fall of 2016, we contracted Stone-Olafson to conduct an Arts Engagement Research Study to monitor overall awareness and familiarity of various festivals and events, gauge interest of Calgarians in attending these events, understand arts engagement in Calgary, and examine Calgarians' attitudes toward the arts and its impact on communities. This was a follow-up to a 2014 Arts Engagement Research Study, also conducted by Stone-Olafson. In 2017, we published the full report of the findings.
More Information on the Calgarian Engagement Survey
Governance
Calgary Arts Development is governed by a Board of Directors, appointed by and directly accountable to its Shareholder, The City of Calgary, via City Council. The Board of Directors governs lawfully, observing the principles of the policy governance model, with an emphasis on strategic leadership and clear distinction of board and CEO roles. The board also identifies the principal risks of Calgary Arts Development's business, achieves a proper balance between risks incurred and potential returns, and oversees the development of policies and the implementation of appropriate systems to manage the risks. In 2017, there were five regular board meetings and a two-day retreat scheduled, with an attendance record of 82%.
Board of Directors Committees
The Calgary Arts Development Board of Directors carries out its responsibilities using the following committee structures.
Finance and Audit
The purpose of the Finance and Audit Committee is to assist the board in fulfilling its oversight responsibilities by reviewing and making recommendations to the board regarding:
Financial information, including audited financial statements, that will be provided to the Board of Directors and other stakeholders.
The systems of internal controls.
Internal audit processes.
Investment management activities.
Governance and Human Resources
The Governance and Human Resources Committee (GHRC) has three areas of responsibility:
Governance matters, including management of the relationships between the board and the CEO and between Calgary Arts Development and the Shareholder, all as defined in the policy manual.
Human resources policy development and oversight, including review of CEO hiring, performance evaluation, compensation, development, and termination.
Board recruitment, development, and evaluation.
Strategy and Public Policy
The Strategy and Public Policy Committee's mandate includes:
Considering and making recommendations to the Board of Directors on matters affecting strategy and public policy within Calgary Arts Development's mandate.
Providing guidance and evaluation to the Board of Directors for the development and evaluation of Calgary Arts Development's alignment with our mission and vision, and facilitates strategic planning process in coordination with the board.
Key Policies and Processes
Board of Directors Policy on Conflict of Interest
A comprehensive policy exists for members of Calgary Arts Development's Board of Directors that sets the parameters around potential conflicts of interest. Calgary Arts Development aims to recruit board members whose professional reputations and work in the community will enhance Calgary Arts Development's impact. These individuals have a strong commitment to building the arts in Calgary, to making the arts central to the municipal decision-making process and to building relationships with other agencies from the public and private sectors.
Members of the board are conscious of the conflicts of interest that may arise in the normal course of business or as a result of board members being connected to an organization that may receive direct or indirect benefits from the activities of Calgary Arts Development. Each board member shall disclose in writing all known real and potential conflicts upon appointment to the board and on an annual basis and otherwise in accordance with this policy.
Granting and Resource Allocation Recommendation Processes
Program guidelines specifying objectives, decision-making processes and assessment criteria are designed for each arts investment program (including granting programs and recommendations to City Council on infrastructure investments). Along with program guidelines, Terms of Reference provide direction to arm's-length volunteer assessors who make recommendations to Calgary Arts Development.
People
Staff
Jordan Baylon, Community Investment Manager
Gregory Burbidge, Research & Policy Specialist (as of May 1, 2017)
Amy Jo Espetveidt, Content Manager
Nick Heazell, Database and Website Coordinator
Lesley Hinger, Office Manager & Executive Assistant
Beth Miller, Research and Policy Specialist (to February 28, 2017)
Emiko Muraki, Director, Community Investment and Impact
Helen Moore-Parkhouse, Director, Communications and Engagement
Taylor Poitras, Community Investment Assistant (as of May 1, 2017)
Patti Pon, President & CEO
John Richardson, Research Assistant (Summer Student, May-August 2017)
Caleigh Seitz, SpaceFinder Outreach Medicine Hat (Summer Student, May-August 2017)
Melissa Tuplin, Community Investment Officer
James Walker, SpaceFinder Outreach Red Deer (Summer Student, May-August 2017)
On Contract
Kaley Beisiegel, Engagement Consultant
Joni Carroll, Arts Spaces Consultant
Amanda Germain, CA, Controller
Cherie McMaster, Events Consultant
Kari Watson, Spaces Database Coordinator
Board of Directors
Col Cseke, Co-Artistic Director, Verb Theatre; Professional Theatre Artist (to June 2017)
Patrick Finn, Associate Professor, University of Calgary School of Creative and Performing Arts
Cheryl Foggo, Writer/Playwright (as of March 2017)
Donna Friesen, Community Leader
Rob Harding, CPA/CMA Athabasca Oil
Tim Mah, CA (Treasurer), Community Leader
Stacy Petriuk, Partner, JSS Barristers
Dean Prodan (Chair), CFO & Director, Whitehorn Resources Inc.
Susan Veres, Vice President, Marketing & Communications, Calgary Municipal Land Corporation
Katherine Wagner, Associate (Architecture), DIALOG
Evan Woolley, Councillor, Ward 8, The City of Calgary
Committees, Assessors and Volunteers
Thank you to the many people who have given their time and expertise to our programs. We could not succeed without them.
Mayor's Lunch for Arts Champions
Arts Champions Sales Committee
Tom McCabe
Volunteers
Strategic Group employees
Cultural Leaders Legacy Artist Awards Juries
Stephanie Acheson
Peter Balkwill
Stephanie Bankzy
Derek Beaulieau
Matt Blais
Kerry Clarke
Chris Cran
Col Cseke
Xstine Cook
Teresa Coulter
Jerilynn Daniels
Kris Demeanor
Daniel Doz
Mark Hopkins
Sandra Huculak
Kodi Hutchinson
Colin Jackson
Salimah Kassam
Amanda Koyama
Simon Mallett
Deanne Matley
Micheline Maylor
Nicole Mion
Brent Pickerl
Joanne Reynolds
Cecilia Schlemm
Aaron Sidorenko
Justine Vandergrift
Mark Vazquez-MacKay
Mark Wold
Grant Program Assessors
Sara Bateman
Cathy Billington
Louise Casemore
Lissa Craig
Chris Dadge
Guy De Carteret
Johanne Deleeuw
Jan Derbyshire
Paul Dornian
Amanda Foote
Chris George
Allara Gooliaf
Peter Hemminger
Jeff Hessel
Mark Hopkins
Nicole Kelly Westman
Karin King
Jason Klinck
Colleen Krueger
Anila Lee Yuen
Brenda Leiberman
Laurie Leier
Donna Livingstone
Andrew Long
Tyler Longmire
Skye Louis
Simon Mallett
Lauren Martin
Micheline Maylor
Ashley Meller
Judith Mendelsohn
Daniel Mills
Davida Monk
Andrew Mosker
Lisa Murphy-Lamb
Jay Northcott
Jeremy Pavka
Jenna Rodgers
Chad Saunders
Colleen Smith
Pamela Tzeng
Paul Welch
Su Ying Strang
Katherine Ziff
Artist Opportunity Program Assessment Auditor
Emmy Li
2017 Program Partners
Calgary Poet Laureate

Cultural Leaders Legacy Artist Awards

Mayor's Lunch for Arts Champions

New Pathways for the Arts

Remarkable Experience Accelerator

SpaceFinder Alberta

Suite #501, 237 8th Ave. SE Calgary, AB T2G 5C3
403.264.5330
info@calgaryartsdevelopment.com
calgaryartsdevelopment.com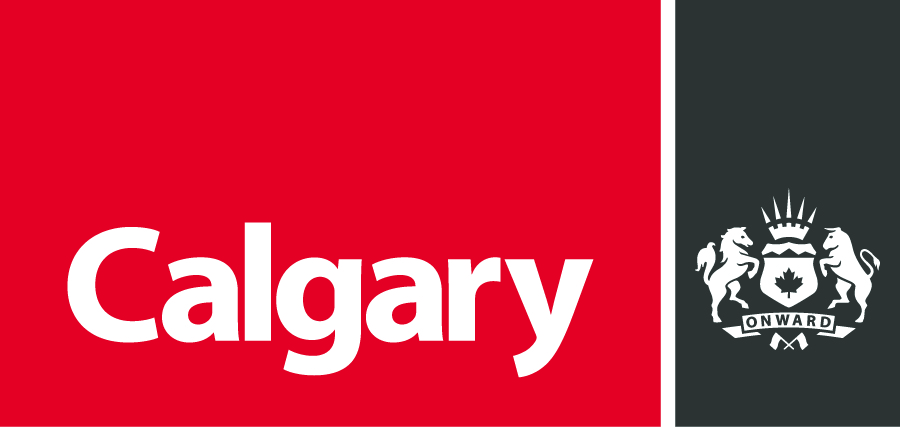 Calgary Arts Development is The City of Calgary's arm's-length arts development authority.
Calgary Arts Development Financial Statements for 2017